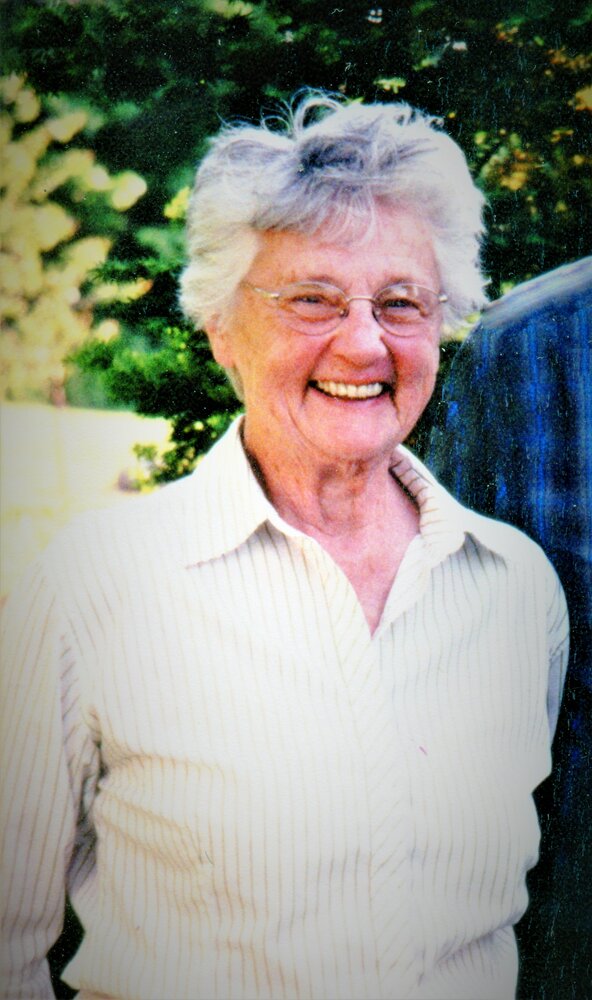 Obituary of Stella Reesor
Stella Virginia (Witmer) Reesor
(1931-2023)
Passed away peacefully in Markham, Ontario after a period of declining health on Sunday August 27, 2023 at the age of 92.

Stella was born in Columbiana, Ohio to Enos and Hannah (Wenger) Witmer on August 16, 1931. She was the eldest daughter in this large Mennonite farm family with ten children surviving to adulthood. Graduating from high school in 1948, Stella also provided much support to her parents by helping in the home and with their farm implement business before marrying Elmer Reesor and moving to Unionville, Ontario in 1953.
Stella and Elmer were full partners on their York county poultry farm. Stella and Elmer modelled the value of working together to support their growing family. Their family business grew in the early 1970s to include a new venture of selling eggs at the York County Farmers Market. Their children learned work habits and values that shaped them during their subsequent farming careers and professions.
Stella became a loving caregiver to Elmer when he was diagnosed with ALS in 1976 and provided untiring support to him until his death in 1983.

She is survived by their six children: Joanna (Andrew), James (Sheila), Eugene (Julie), Edward, Richard (Carolyn), and Robert (Barb.) Most of their grandchildren were born after Elmer's death: Martin, Allan, Denise, Justin, John, Laila, Noura, Lukas, Ellen, Alex, Ben, Jeremy, Curtis, Peter, and Meredith. Later, 26 great-grandchildren were added to the family.

Stella felt her husband's loss acutely but built a different life focused on her family and her church. While employed as a bookkeeper, and given her fundamental high energy, she still made time to work as a volunteer for numerous projects that supported the work of Mennonite Central Committee such as the Care & Share Thrift Shop, Black Creek Relief Sale and the fall sale of Ten Thousand Villages crafts at Harbourfront. She also was committed to serving her church, Hagerman Mennonite, through her years of service to the Girls' Club and Sewing Group.

While faithful to her family and her church, Stella also found time to pursue her other passions. A life-long learner, she took correspondence courses and was particularly interested in history. Computer courses were also pursued at a local college out of practical interest. Music was also a big part of Stella's life including a membership from time to time at the TSO.

After being a widow for 18 years, Stella and Harold Reesor (a widower) had a whirlwind courtship and were married in December 2001. They had thirteen children and many grandchildren and great-grandchildren between them. Both of them were retired and their early years together were filled with hosting family members for meals, travel and church activities. Later, life slowed down as Harold's health declined and he died in March 2017. Stella lived independently until June 2021 when she had a stroke and from that point on needed a supportive living environment.

Stella's smile, her warm and vibrant personality will be missed. Her large extended family of Witmers and Reesors will miss her genuine care and concern for their wellbeing. She also shared her gifts with many others who will miss her hospitality as her table was open to all.
Stella was predeceased by six siblings: Grace, Elvin, Vesta, Ralph, Owen and Elmer, and is survived by Daniel, James, Homer, Esther and Marjorie.
The funeral for Stella Reesor will also be available by Zoom
Please remember to mute your microphone during the service.
Join Zoom Meeting: https://us02web.zoom.us/j/86581736386?pwd=MXdUMUpyamFjT3czK0psNTczdHZlUT09
Meeting ID: 865 8173 6386 Passcode: 371875

To connect via telephone: If in the Toronto area dial (647) 374 4685 or (647) 558 0588
Other locations please look up your local number for Zoom
Find your local number: https://us02web.zoom.us/u/kd0YKKORC9



Share Your Memory of
Stella