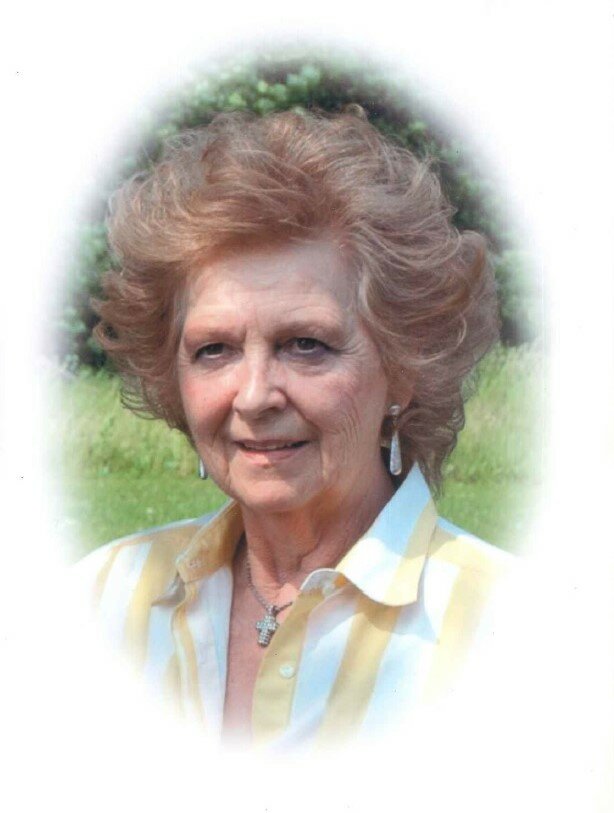 Obituary of Muriel Emma May Leadbetter
Muriel Emma May Leadbetter (nee Kerswill)
1927 – 2023
It is with great sadness that the family announces the passing of Muriel Emma May Leadbetter on Wednesday, May 31, 2023. Muriel died peacefully at Markham Stouffville Hospital at 96 years of age with her family at her side. Muriel was born in Vaughan Township to parents George and Ida Kerswill. She grew up on the family farm on Warden Avenue in Markham with 10 her siblings: Jean, Dan, Jack, Charles, Gordon, Bruce, Doris, Ralph, George, and Norman Kerswill (deceased April 26, 2023). Muriel was the last living member of this Kerswill family. Muriel enjoyed her daily walk to elementary school with the local neighbour children and working in the family garden. It was in this rural farm home that Muriel, the youngest daughter, honed her cooking skills learning to feed her hungry brothers.
Muriel joined the Main Street Markham Leadbetter Meats family in 1951 with her marriage to Charles "Chuck" Leadbetter. They lived above the butcher shop and raised their four boys: John (predeceased November 11, 2019) (Joan), Paul, Thomas (Denise predeceased September 10, 2022), Mark (Roseann).
The family moved to a home on Sherwood Forrest Drive in 1962 where Muriel continued to live following the death of "Chuck" in 1980. Muriel continued to enjoy gardening, cooking for the family and enjoying travel with her family and friends. Thomas and Denise renovated her house and moved in with Muriel beginning in 2004 to help her continue to live in her own home. Muriel is survived by grandchildren Antwon, Richard (Mary-Lynn), Lisa (Dave) and Amy (Grant) and great-grandchildren Teghan, Shelby, Shae-Lynn, Hamish, Hazel, William, Robert, Andrew, Brooklin, Marley and Christiana.
Muriel was a committed member of the Main Street Business Community. Even while raising her family she worked behind the scenes of the Leadbetter butcher shop supporting her husband "Chuck" and sister-in-law Florence Weeks in expanding the business. She was the one who cooked for the busy family, washed the spotless aprons and helped in the community. Following "Chucks" passing Muriel supported son John as he and his family and brother Mark continued the Leadbetter name from the Main Street Butcher Shop into large scale BBQ catering in Whitchurch Stouffville.
In addition to the butcher business Muriel was very active in the community, especially with Grace Anglican Church. She spent over 60 years serving on the Alter Guild and was always a contributor to the church's catering activities. She was known for her delicious food; especially her pies which she had learned to bake for her brothers back on the farm. Muriel played an active role in the widow's community at the church. She was a member of the Markham Berczy Settlers Association (her Schmidt ancestor arrived in Markham with William Berczy in 1794), a member of the Markham Historical Society and the Pennsylvania German Folklore Society of Ontario. She continued her interest in the community including ongoing support to the Markham Stouffville Hospital that she and "Chuck" had started years before. Of course she was always interested in the progress of her family.
First Visitation
2:00 pm - 4:00 pm
Wednesday, June 7, 2023
Dixon - Garland Funeral Home
166 Main St. N.
Markham , Ontario, Canada
905-294-2030
Second Visitation
7:00 pm - 9:00 pm
Wednesday, June 7, 2023
Dixon - Garland Funeral Home
166 Main St. N.
Markham , Ontario, Canada
905-294-2030
Funeral Service
11:00 am
Thursday, June 8, 2023
Grace Anglican Church
19 Parkway Avenue
Markham, Ontario, Canada
Reception
The family invites all guests for a time of Food and Fellowship in the Church's Fellowship Hall.
Burial
The Burial will take place at Grace Anglican Cemetery.


Share Your Memory of
Muriel