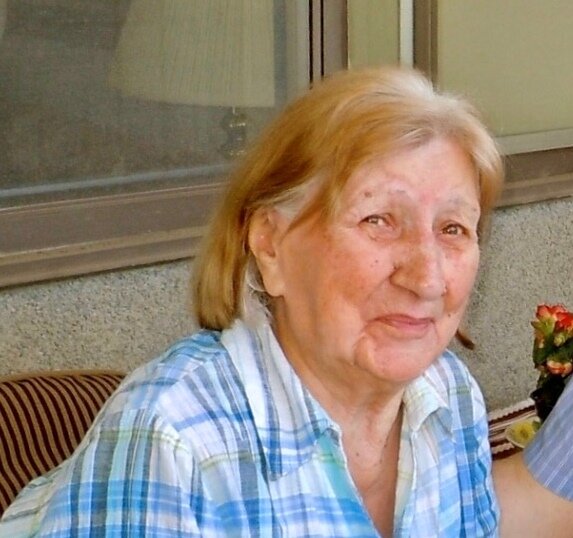 Obituary of Theresa Torzsok


Died peacefully with her son Michael (Fay Marie) at her side at Credit Valley Hospital, Mississauga on January 25, 2022. Pre-deceased by her beloved husband Michael (1999) and her loving daughter Elizabeth (2007). Cherished Grandmother of Eugene (Amanda), Andrew (Angela) and Charles (Melissa). Great Grandmother of Nathan, Caitlyn, Hannah, Peter, Ava and Emily.
Theresa was a generous, independent, determined and courageous person. She loved her family fiercely and would move heaven and earth for them. She adored the outdoors, especially gardening. When she was indoors, she would spend hours reading and cross-stitching. From comfort food to fancy pastry, her meals were legendary. Theresa loved to entertain family and friends, especially at Christmas.
Theresa was born in the agrarian town of Csepreg, Hungary, the first child of Julianna and Istvan Horvath. At the age of two, while her mother was pregnant with her only sibling Magda, her father unexpectedly died. In 1944, as war raged in Europe, Theresa wed Michael, the "love of her life". Just three months later, their world changed, as the Soviet Army crossed the eastern border of Hungary. They went to live with her mother in Csepreg. In spite of the Soviet occupation, they were succeeding in building a new life together: Theresa concentrated with the farm and Michael resumed his cabinet making and wheelrightery. 1946 saw the birth of their first child, Elizabeth.
In 1950 their world ended again, when the secret police knocked on the front door for Michael. Being quicker witted that the men at the front of the house, Theresa helped him escape out the back, not knowing if she would ever see her husband again. But, Theresa was also Michael's "love of life". He secretly returned a few months later from Austria to take Theresa and Elizabeth back to the refugee camp. They eventually made their way to Toronto.
Starting with little, they build a good life for themselves and their family. Michael found work as a cabinet maker, but money was scarce, especially after their son Michael Jr was born in 1953. To help ends meet, Theresa hired herself out as a house cleaner, often carrying her diapered son to work sites. Julianna fled Hungary, along with other refugees, during the 1956 revolution. She joined the family in Toronto in 1957. As her mother able to look after the children, Theresa found full time employment in the finishing shop of the furniture factory where Michael Sr was working. A few years later, Theresa joined the linen shop of the Royal York Hotel as a seamstress. She remained there until Michael Sr retired in 1978, joining him in his retirement.
Theresa and Michael Sr enjoyed a happy retirement. When not at their Markham home, they split time between their cottages in Florida and Parry Sound. In between, they travelled to the Caribbean and Europe. After Hungary's communist regime fell in 1989, they were able add visits to the "old country".
In 1996, Michael Sr suffered a stroke and entered into long term care. Theresa spent time with him every day, until the "love of her life" died in 1999. A second tragedy occurred in 2007, when Elizabeth died unexpectedly.
With her husband and daughter gone, Theresa moved into a retirement apartment in Mississauga to be closer to Michael Jr. Then in 2020, due to declining health and just a few weeks before the first COVID lockdown, she moved into Silverthorn Care Community. COVID related restrictions limited her families' ability to visit her, but she received excellent help and companionship there, remaining free of the virus to the end.
Visitation will be held Saturday, February 5th, 2022 from 2:30pm until time of funeral at 3:30pm in the Chapel at Dixon-Garland Funeral Home 166 Main St. North, Markham L3P1Y3.
Due to public health guidelines, please reserve your spot below. In lieu of flowers, donations may be made to the Canadian Red Cross.
-
Visitation and Service - by reservation
Saturday February 5, 2022, 2:30pm-3:30pm
Reserve your attendance for the Visitation here

-

Funeral Livestream

You can access the webcast by clicking the link below and following the prompt to enter your email address. You will immediately be sent a link in your email inbox (please check spam/trash folders if the link is not in your inbox). The link expires quickly, so please sign up to access it on the day of the service and keep the pre-ceremony page open until the stream begins. The service will be viewable after the webcast, as well. The webcast is set to start at 2:25 pm.
Please click here to access the funeral livestream.
Visitation
2:30 pm - 3:30 pm
Saturday, February 5, 2022
Dixon - Garland Funeral Home
166 Main St. N.
Markham , Ontario, Canada
905-294-2030
Please reserve a spot via the link above. Please be advised that all attendees must wear a mask while inside the funeral home.
Funeral Service
3:30 pm
Saturday, February 5, 2022
Dixon - Garland Funeral Home
166 Main St. N.
Markham , Ontario, Canada
905-294-2030


Share Your Memory of
Theresa