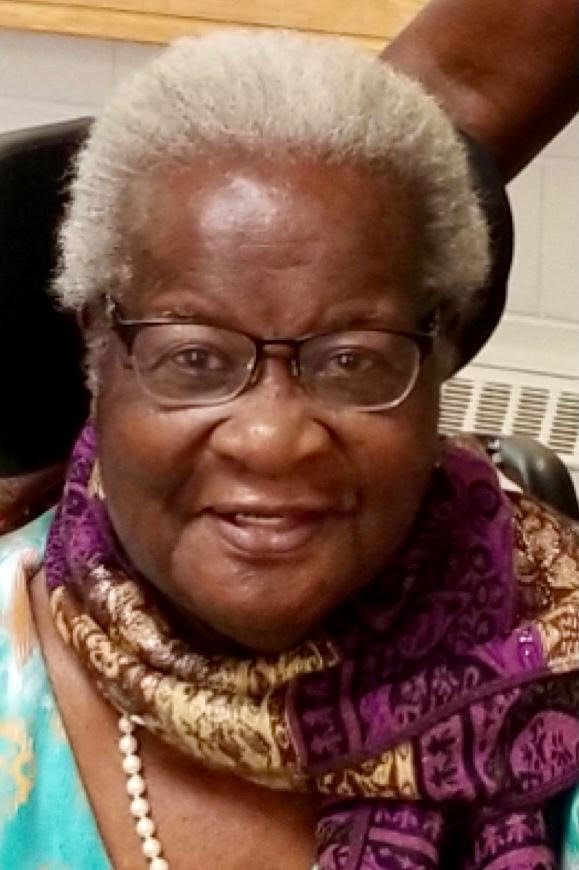 Obituary of Mercy Eugenia Mensah
MRS. MERCY EUGENIA MENSAH
née Arhin
aka Aunty Ekua Fosua
April 23, 1930 - Jan. 11, 2021
Mercy was born in Saltpond on April 23rd 1930 to Madam Grace Taylor of Saltpond and Mr. Abraham Pobee-Sem of Assin Nsuta in what was then called the Gold Coast - now known as Ghana.
She enjoyed a very happy childhood with her parents, siblings, grandmother, aunts, uncles and cousins. Her father was a hardworking blacksmith, trader, bricklayer, farmer, traditional medicine practitioner and lay preacher at the local Methodist Church. Her mother worked as a baker, farmer and trader. The examples of Mercy's parents' commitment to working hard and being the best at everything they worked at instilled a signature work ethic in Mercy for the rest of her life. Mercy applied herself diligently at every task she undertook excelling in her studies in Assin Nsuta.
Tragedy hit when Mercy lost her mother at age 12 followed a few years later by the death of her father. She was not discouraged and continued to apply herself diligently to her school work. At Government Girls' School in Cape Coast she worked hard and her excellent results earned her a full government scholarship to attend the Gold Coast's premier Wesley Girls' High School, Cape Coast in 1947. She emerged as a leader there and became the Sunday School Secretary showing herself to be able to take responsibility. She graduated from High School with honours and was awarded another government scholarship to attend Achimota Teacher Training College. It was at Achimota that Mercy would meet her future husband.
Mercy graduated with a Teacher's Certificate 'A' diploma and was assigned to teach at an elementary school in Accra. She joined her sweetheart - Atta Annan Mensah - in London three years later and they were married immediately. Their union was blessed with five children. Mercy and Atta Annan enjoyed a life of hard work and sweet adventure raising their children together in different parts of the world. Mercy was dedicated to her family and made many sacrifices to ensure her children developed into responsible citizens.
Mercy Mensah's teaching career was impressive. Her students excelled and she worked extremely hard to motivate them to develop a thirst for knowledge. Beneficiaries of her dedication were at Anunmle Schools, Bishop Bowers School in Accra, Ghana; Lusaka Girls' School, Lusaka Boys' School in Lusaka, Zambia; H. H. The Aga Khan Primary School in Kampala, Uganda; University Primary School in Cape Coast, Ghana; University Primary School in Ilorin, Nigeria.
In retirement she settled with her husband in Toronto and quickly found a place to worship, serve and practice her Christian Faith.
Mercy had a great influence on many young parents, supporting them with her counsel, even offering babysitting services to young working parents. In this way she enriched the lives of the children as well.
At the age of 70, Mercy realized her goal of achieving a university education and earned a Bachelor's degree in Theology.
She was working towards a Master's Degree but was compelled to withdraw from the program to care for her husband.
She had demonstrated that with determination, perseverance and faith you could achieve your heart's desire, setting a great example for the young people in her life.
Mercy's hobbies included reading her Bible, cooking and gardening. Viewers on national television in Zambia were treated to her highly rated cooking show episodes. She was a life-long chorister and shared the stage and radio waves with her husband and other accompanists as a beautiful mezzo soprano. Aunty Ekua Fosua was always a source of strength, comfort and indeed, humour to her family. Her pleasant disposition endeared her to everyone she met.
Mercy earned her place as the matriarch of the Eguana No. 1 Royal Family of Saltpond and was loved and revered by her many cousins, nieces and nephews, great nieces and great nephews.
Mercy died peacefully in her sleep on Monday, January 11th in Aurora, York Region. She was pre-deceased by her parents, her husband - Prof. Atta Annan Mensah, son-in-law - Jean-Christophe Casu - and eight siblings.
Mercy is survived by her five children - Ekua Jameswa Mensah (Thaddeus P. Ulzen), Ranzie Mensah, Kofi Nunoo Mensah (Heather), Abena Mensah-Carr (Alan), Ato Annan Mensah (Swanzette), 13 grandchildren, 3 step grandchildren, and 10 great grandchildren, nieces, nephews and a large community of friends all across the world.
A mighty tree has fallen. May God Almighty grant Mercy Eugenia eternal rest.
To View the Livestream Service Please Click the Link Below...
https://event.forgetmenotceremonies.com/ceremony?c=24f9666a-ee69-414a-bf0c-c60b3f498722


Share Your Memory of
Mercy