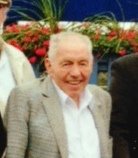 Obituary of James Thompson Sabiston
It is with great sadness but acknowledgement of a life well lived, that the family of James Thompson "Buss" Sabiston announces his peaceful passing on October 10, 2020, in his 98th year.
Predeceased by his loving wife Evelyn (Wheeler) of 54 years. (2005) Caring and supportive Father of Judith Prentice and Paul (Susan), loving and proud Grandfather of Chris and Brad Prentice (Karen), adoring Great Grandfather of Carlie and Leah Prentice.
Buss, as he was known to his long time friends, was a man of great determination and resolve. He faced all of the difficult challenges in his life with perseverance and hard work. He is remembered for his kindness, loyalty and unstinting support of the underdog.
Family gatherings were a source of great pleasure. He thoroughly enjoyed the picnics, corn roasts and Christmas dinners with his siblings and their families, especially interacting with his nieces and nephews, and later, his grandsons. He was always delighted to see his great granddaughters and loved the pictures and cards that they made for him.
Buss was always a keen skater and hockey player, and was still speed skating when he was in his eighties. Many Unionville and Markham residents will remember skating or playing hockey on "the Sabiston pond" on Number 7 Highway. Buss would spend hours building up the ice and shovelling when necessary to maintain a good ice surface for anyone who wanted to participate.
Buss began a small one man operation selling sand, gravel and soil. He always said he started out with a hand shovel and a pickup truck. That business grew, and he became a leading aggregate producer in the province.
Horses always played a part in his life. In his early years, he rode a horse to deliver newspapers - as far away as Scarborough - then later drove a team of horses to deliver coal for Stiver Brothers in Unionville. Then he was introduced to thoroughbred racing, and he operated a successful horse breeding operation, Longview Farm, near Stouffville. The success of two of his breeds - Grecian Touch, and Rose and Shine was especially gratifying.
A family service has been held. When it is deemed safe to do so, a Memorial Service is planned to appropriately celebrate a life well lived. Online condolences can be made at www.dixongarland.com
In lieu of flowers, donations may be made to a charity of your choice.
Eulogy-

"Hey Dad

So here we are.

I know you've had it rough the last few years and going peacefully in your sleep is the best result....But it's still hard.

You could have easily been where you are now 60 years ago but you weren't having it. And many times afterwards, but you weren't having it. You kept bouncing back.

As Norma Kennedy said when Judy gave her the news " I think he used up all of his nine lives."

You had a good run. You lived life your way, the good, clean, hard way and fought the good fight. You faced every challenge you met with great determination.

Lloyd Canning, your brother Don and brother-in-law Bill are pretty close seconds, but you're the toughest man I ever met.

In these strange Covid times there are only a few of us here today, but so many more would want to be. You didn't outlive everybody after all.

Please know, that you are loved, know that you are respected and know that you are admired by more people than you could imagine.

May God be with you!"
Share Your Memory of
James