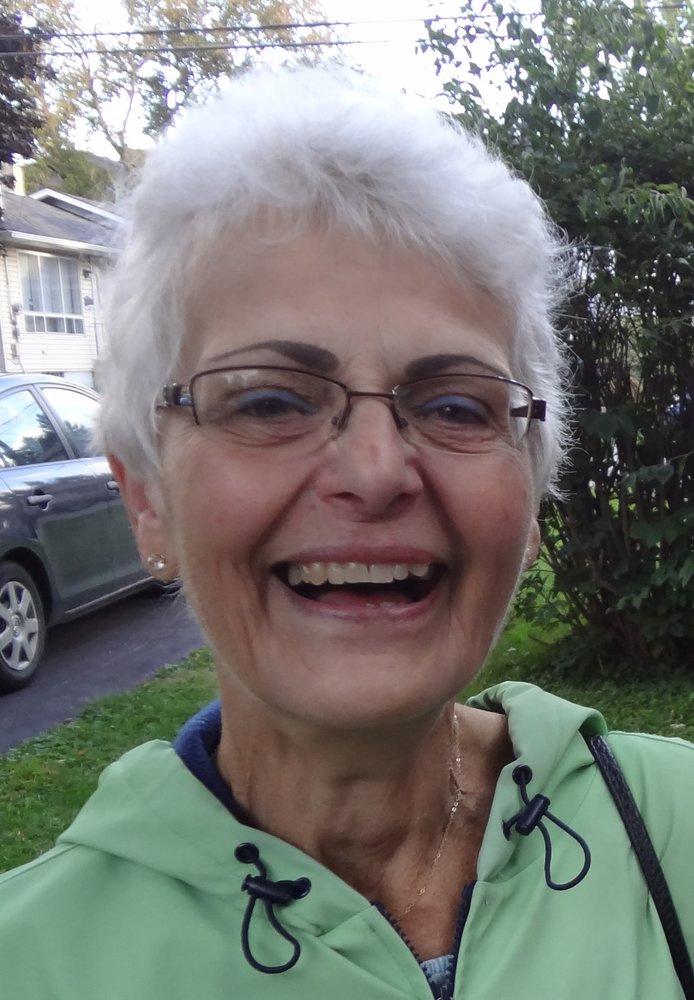 Obituary of Patricia Butterworth
It is with great sadness we announce the passing of Edith Patricia "Pat" Butterworth (nee Wilkinson) on Sunday, June 7 at Markhaven Home for Seniors. Loving Mother to Sherri Ogston (Greg Hofer) and Andrew Butterworth. Grandmother of Alexander, Alyssa, Kyle, Kassidy and Cameron. Sister of Geraldine Hocking. Cherished Aunt of Leanne Hocking Randall (Allan). Very dear "Mom" and friend to many—human, furred and feathered. Former spouse of Thomas Butterworth.
Pat was born January 11, 1943 and raised in the Beaches area of Toronto, where she met her husband Tom while attending church. They enjoyed church activities, time with family, gatherings, picnics, music, dancing and going for drives.
While dating Tom, she worked in a secretarial position at The College of Physicians and Surgeons, in which she took much pride. At the time, she was one of few that would see doctors interviewed and was tasked with following up to ensure their licenses were processed accordingly or if there was anything missing that made them not qualify. She always loved being with people and working in the health sciences field.
After dating for some time, Pat and Tom married and eventually moved to Markham to start a family. She stayed home to raise their two children. They later divorced, but remained friends until his passing in 2019.
To support her family, she picked up odd jobs—babysitting, helping with catering and working in doctor and insurance offices doing clerical work. Later on, she went back to school to upgrade her skills and computer knowledge, obtaining a 98% grade. She was driven and always worked very hard, giving back to others. Many years later, she finally took a well-deserved vacation of a lifetime visiting Italy, Turkey and Greece on a Mediterranean cruise.
As a Mom to her own children and the ones she gathered along the way, she was strict, but loving and funny. Always stressing the importance of values, honesty and integrity in those around her. Ensuring homework was done and that all were home on time. If you were playing outside by the river or up on neighbouring Rouge Street, you always knew when it was time to be home. You could hear her bellowing your name across the roads and fields and you knew you better hustle to get back. She was especially close to her daughter, Sherri, with whom she shared an incredible bond and friendship.
She was a gentle soul. Loved music, sang and danced often around the house. She adored Elvis, concerts and festivals. She loved her dear friends and neighbours, animals, dogs and especially cats. She enjoyed being outdoors and was an avid walker—taking long, daily walks and bus trips where she met many friends along the way. Additionally, she had immense determination that made her a force to be reckoned with. Whether it was cutting her hills of grass with a broken leg without asking for help or shovelling mountains of snow off of a very steep driveway or continuing to take her long walks after having quadruple bypass surgery, she was unstoppable.
Despite living with Alzheimer's in her last years, her positive attitude and her bright spirit continued to shine through. Always joking, laughing and smiling, she made the most of her time while living at Stouffville Creek and then at Markhaven. It was there that she met her soul sister Verna. The two became inseparable enjoying activities and outings together. Verna played piano and Pat sang. You always knew where to find them—you just had to listen for the heartfelt laughter. Thank you to all at Markhaven who helped foster their friendship and supported Pat until the end. She will be dearly missed and always remembered and loved.
Due to COVID-19 there will be no service at this time. A celebration of life will be held at a later date. Online condolences may be made at www.dixongarland.com.
In lieu of flowers, donations can be made in Pat's honour to the Alzheimer Society, Heart & Stroke Foundation or the Humane Society.
Share Your Memory of
Patricia