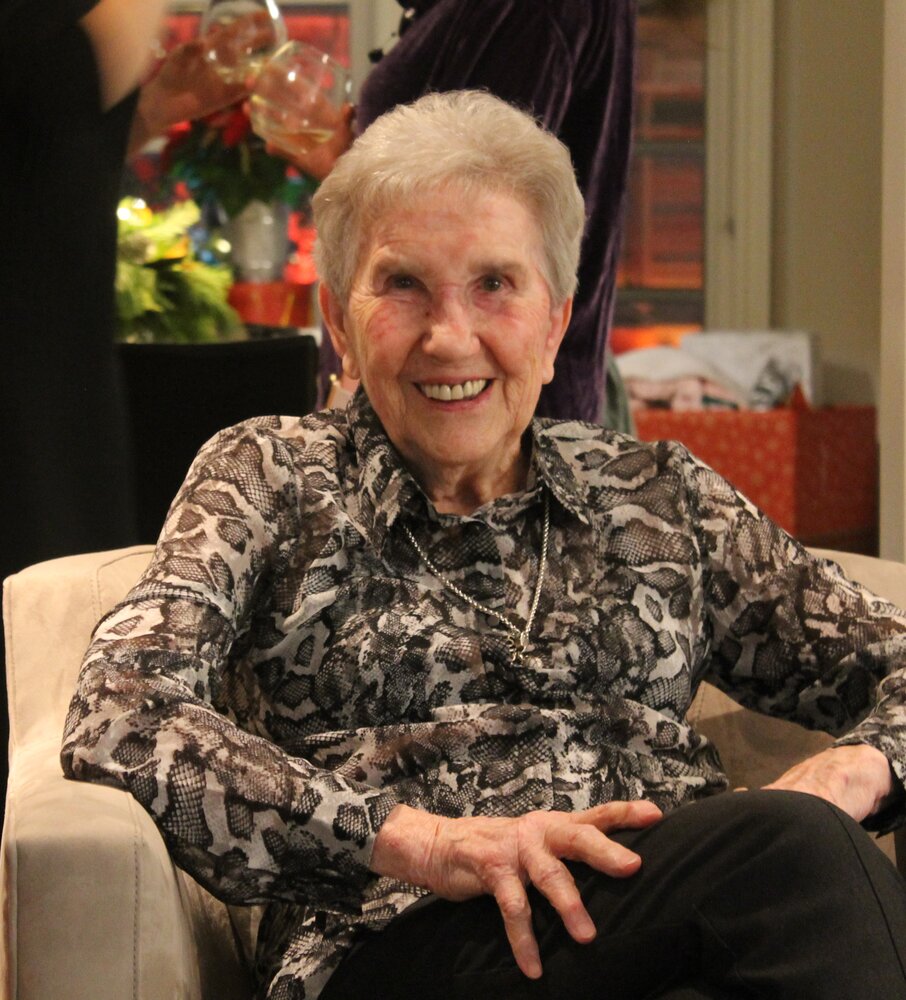 Obituary of Mo (Norma) Cummings
N.E. (MO) Cummings
Norma Erline Paisley was born on August 26, 1930 in Stouffville, Ontario - alongside her twin brother, Norman Earl - to parents Lillis and TH Paisley.
As a kid, a visit to the barbershop with her father ended in a rather unfortunate haircut. Norma's brothers said she looked like Mo of the Three Stooges, and from then on until her passing at 92 years old, everyone best knew her as 'Mo' or 'Mosie.'
Mo is survived by her loving husband of 69 years, Paul. She will be deeply missed by sons Peter (Hiroko), Robert (Linda), Douglas (Michele) and daughter Gayle (Michael); and her 13 grandchildren and 16 great-grandchildren, of whom she was incredibly proud and doted on for 40 years.
Born and raised in Stouffville, Mo was the second youngest of seven kids in the Paisley household. A gifted athlete, Mo excelled at track and field as well as baseball as a kid. It was at Stouffville High School that Mo first met the love of her life Paul, though their courtship didn't begin until their university years. Mo attended the Toronto Western Hospital School of Nursing and spent five years as an Operating Room Nurse there.
Mo and Paul wed on June 19, 1954. Their union kicked off nearly seven decades of adventures, including traveling the world, visiting and hosting friends, raising a family, and enjoying all of life's moments, both big and small.
Mo's greatest joy in life was her family. She left her nursing career to raise her four kids, spending their formative years in Scarborough and Victoria, B.C. There was rarely a dull moment in the Cummings household, with Mo keeping tabs on three "spirited" boys who loved to torment their younger sister.
Mosie was incredibly proud of her children and the lives they built. She cherished visits and phone calls with them and getting the scoop on all things work, kids, travels and more.
Mo felt fortunate to spend 25 years living with her daughter Gayle and her family. Many of those years were spent on the family farm where Mo and Paul enjoyed the simplicities of farm living. You could often find Mo on a walk, enjoying a drink on the porch, completing a crossword, or hanging laundry outside to dry in the fresh farm air (when you lived with Mo, you knew not to get between her and a pile of laundry).
Mo treasured her time at Eagle Lake, having spent 65 summers there. She loved her daily swims, played many games of Scrabble, enjoyed Happy Hour and Book Club get-togethers, and hosted countless visitors (including daily visits from her grandkids, who showed up at 10am sharp each morning for "Candy Shop").
Mo had many close friendships and a very full social calendar. Between bridge games, book club gatherings, curling, baking delicious treats, attending church, volunteering at Markham Stouffville Hospital, and many special trips and celebrations, she lived life to the fullest and touched so many with her quick wit and warm, generous spirit.
Mo was an incredibly loving grandmother and great-grandmother, never missing a birthday, graduation, or milestone, and often marked the occasions by penning one of her famous poems. She proudly displayed photos of her 16 great-grandchildren on her fridge, and loved to introduce them to fellow residents whenever they visited.
When Mo asked about you, she listened intently to the answer because she genuinely cared. She had a warmth about her that left a mark on everyone she met. In her 92 years, she never ran out of room in her heart to love more and more people.
Mo's family is immensely grateful to the staff at Amica Unionville for giving Mo such a warm, welcoming place to spend her final years.
Visitation will be Monday, June 19 from 3-5 PM and 7-9 PM at Dixon-Garland Funeral Home. The Celebration of Life will take place on Tuesday, June 20 at 11 AM at Heritage United Church in Markham.
In lieu of flowers, donations can be made in Mo's memory to Markham Stouffville Hospital.
Visitation
3:00 pm - 5:00 pm
Monday, June 19, 2023
Dixon - Garland Funeral Home
166 Main St. N.
Markham , Ontario, Canada
905-294-2030
Visitation
7:00 pm - 9:00 pm
Monday, June 19, 2023
Dixon - Garland Funeral Home
166 Main St. N.
Markham , Ontario, Canada
905-294-2030
Memorial Service
11:00 am - 12:00 pm
Tuesday, June 20, 2023
Heritage United Church
7046 11th Concession
Markham, Ontario, Canada


Share Your Memory of
Mo (Norma)