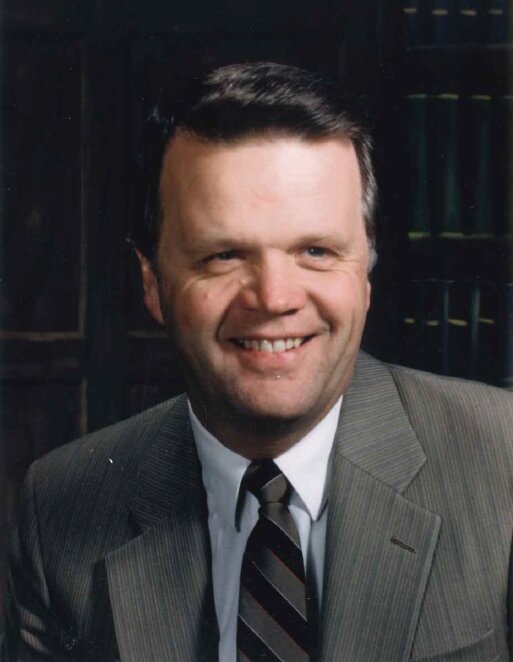 Obituary of William Lloyd Hogg
William Lloyd Hogg (February 7, 1936 - May 9, 2023 )
Lloyd was born to parents Gordon and Gladys Hogg in Thornbury, Ontario, on February 7, 1936. He would later be joined by three brothers - Carl, Dennis, and John; and finally a sister, Gayle.
Lloyd's earliest years were spent growing up on the family farm near Nottawa, Ontario. His parents joined the Stayner Brethren in Christ Church shortly after he was born, which became a central part of his family life and personal identity. Lloyd was a good student and "skipped" two grades in elementary school and so at the age of 12 he began his high school studies at Niagara Christian College, a Christian school in Fort Erie, Ontario. There he would meet many lifelong friends, including his sweetheart and the love of his life, Lorna Faith Sider.
Lloyd and Lorna graduated from high school in the spring of 1953, following which Lloyd went to Stratford Teachers College and Lorna enrolled in the Greater Niagara School of Nursing. After 1 year of teacher training, Lloyd became a full-time teacher in Waterloo County at the age of 18. With careers established, Lloyd and Lorna were married on December 22, 1956. Later, while working full-time and raising a family, Lloyd earned a Bachelor of Arts degree from University of Western Ontario (1961) and a Master of Education degree from University of Toronto (1969).
Baptized at the age of 12, Lloyd was a lifelong follower of Jesus Christ and committed member and lay leader in the Brethren in Christ Church (BIC). In 1960, Lloyd and Lorna moved their young family to Hamilton, Ontario to help plant a new church there. In 1962, he was part of the founding team that purchased and started a BIC Christian camp near Magnetawan, Ontario. Lloyd and Lorna served as volunteer Camp Managers for the first two summers "Camp Kahquah" operated. In 1965, the family moved to Fort Erie, Ontario, where Lloyd taught at Niagara Christian College for 2 years.
In 1967, Lloyd and Lorna moved to the Greater Toronto Area, settling in the community of Stouffville where they purchased a small property just outside town which had a small barn and pasture area to support a semi-rural lifestyle. Here they also became active members of Heise Hill BIC Church. Lloyd commuted into the city (North York) where he initially taught Mathematics at Milneford Junior High School until being promoted to Vice-Principal in 1970, then Principal in 1972. He completed his teaching career as Principal of Wilson Heights Junior High School in 1990. In 1991, Lloyd transitioned into a "second career" as Executive Administrator of Parkview Services for Seniors in Stouffville, where he worked until finally retiring for good in 1998.
After retiring, Lloyd continued his volunteer service at Heise Hill Church and with other organizations such as Mennonite Central Committee, the "Care & Share" Thrift Shop in Stouffville and Niagara Christian College. He and Lorna were also able to travel to various destinations in Europe, Africa, and Asia. In 2008, they moved into a suite at Parkview Village. Lloyd was diagnosed with "mild cognitive impairment" in 2011, which in hindsight was the beginning of his Alzheimer's disease. He moved into Parkview Home Long Term Care in 2019.
Lloyd was preceded in death by his brothers, Carl and Dennis and grandson Aaron. He is survived by his loving wife Lorna, siblings John and Gayle (John), 3 sons Larry (Laura), Craig (Trish), Bradley (Brenda); 10 grandchildren, Robert (Alicia), David, Michael, Drew (Brooke), Ryan (Kristen), Alison (Ryan), Graeme (Caitlin), Kieran (Carla), Owen and Kiefer; and 7 great-grandchildren, Aadon, Hudson, Emmery, Quinn, Lana, Jacob and Lilly.
Funeral Livestream
To access the livestream, CLICK HERE and follow the prompt to enter your email address. You will immediately be sent a link in your email inbox (please check spam/trash folders if the link is not in your inbox). The link sent to your inbox will expire, so please sign up to access the livestream on the day of the service and keep the pre-ceremony page open until the stream begins. The service will be viewable after the livestream, as well. The livestream is set to start at 1:50 p.m., service begins at 2:00 p.m.
First Visitation
2:00 pm - 4:00 pm
Friday, May 12, 2023
Dixon - Garland Funeral Home
166 Main St. N.
Markham , Ontario, Canada
905-294-2030
Second Visitation
6:00 pm - 8:00 pm
Friday, May 12, 2023
Dixon - Garland Funeral Home
166 Main St. N.
Markham , Ontario, Canada
905-294-2030
Funeral Service
2:00 pm
Saturday, May 13, 2023
Heise Hill Church
11760 Woodbine Avenue
Gormley, Ontario, Canada
Burial
The Burial will take place following the Funeral Service at Heise Hill Cemetery.
Reception
The family invites all guests to the reception hall at Heise Hill Church for a time of food and fellowship following the burial.


Share Your Memory of
William