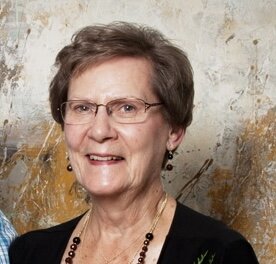 Obituary of Avis Noreen Johnston
Avis Noreen Johnston née Logan died peacefully at Markham Stouffville Hospital on December 8, 2022 surrounded by family, after a battle with Covid-19.
Noreen was born in Souris, Manitoba on October 18, 1934, to Ena and Clare Logan and grew up on a dairy farm, a place she remembered with love. It was there she learned to ride her horse Doug and also to drive a truck - both at a very young age. Upon applying for her license at 16, she was told there was barely a need by the attendant, "Noreen I've been watching you drive on the backroads here since you were 14."
She married Neil Johnston in 1963 and enjoyed nearly 60 years of marriage. Noreen was a superlative homemaker and kept a fastidious home in each of the locations they lived in, including: Steinbach, Winnipeg, Thunder Bay, London, Waterloo and Cambridge, before settling in Markham, Ontario. She was also a great cook and incredible baker, hosting sumptuous family dinners and rowdy pool parties for many, many years. Her cookies were legendary. In her retirement, Noreen and Neil enjoyed many rounds of golf and many fine vacations too, including to Florida, the Caribbean and Hawaii.
In her earlier days Noreen worked as a phone operator; in her later years with Hallmark as a display coordinator, but her greatest role was matriarch: loving wife, mother, grandmother and mother-in-law.
She is survived by her loving husband Neil Herbert Johnston of Markham, Ontario, sons Craig (Pat Polsky) and grandchildren Elizabeth (Brandon Hildebrand), Anne (Dillon Carson) and Lindsay, Clare (Barb Wieczorek) and grandchildren Jessica and Sam, and Rick (Crystal Quast) and grandchildren Duncan and Gavin. She was also adored by family pets, Ginger and Max, Stella, Hank and Maddy.
Noreen was predeceased by her only sibling and beloved sister Ila Cain née Logan in 1968. She continued to share a special bond with her niece, Valerie Ferguson née Cain (Ed and children Beau and Ben) that lasted a lifetime.
Noreen was loved by all and will be deeply missed.
A Celebration of Life will occur on December 17, 2022 @ 11:00 am. at Dixon Garland Funeral Home, 166 Main Street North, Markham.
In lieu of flowers, donations to the Markham Stouffville Hospital Foundation would be greatly appreciated.
Funeral Livestream
To access the livestream, CLICK HERE and follow the prompt to enter your email address. You will immediately be sent a link in your email inbox (please check spam/trash folders if the link is not in your inbox). The link sent to your inbox will expire, so please sign up to access the livestream on the day of the service and keep the pre-ceremony page open until the stream begins. The service will be viewable after the livestream, as well. The livestream is set to start at 10:45 a.m., service begins at 11:00 a.m.
Celebration of Life
11:00 am
Saturday, December 17, 2022
Dixon - Garland Funeral Home
166 Main St. N.
Markham , Ontario, Canada
905-294-2030


Share Your Memory of
Avis