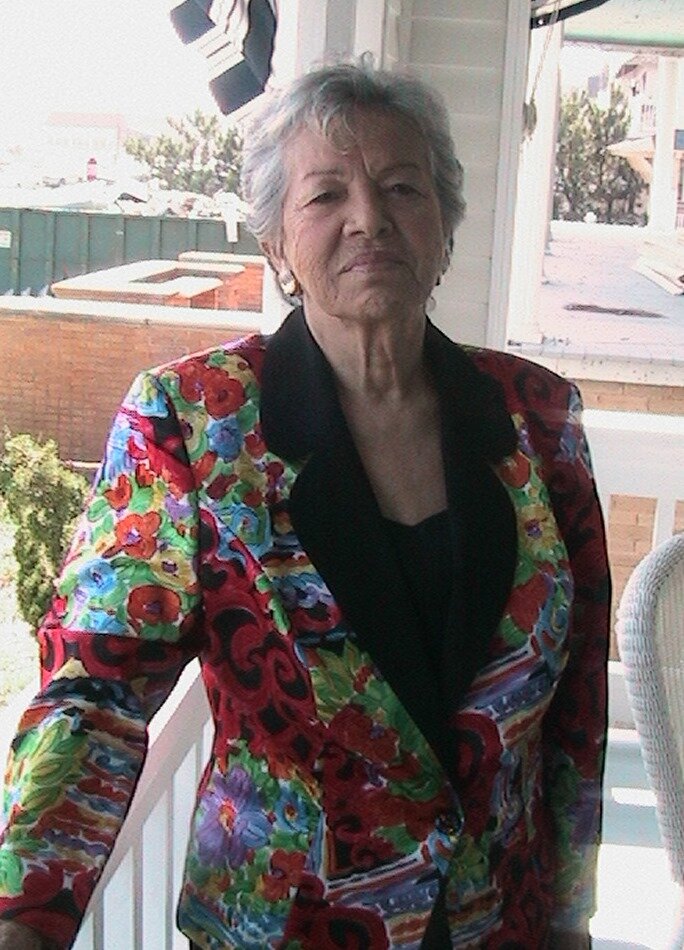 Obituary of Alejandrina Adrian de Portales
Alejandrina Portales, "Alejita" - Passed away peacefully with family by her side on Monday December 5th, 2022 and is now reunited in heaven with her beloved husband Esteban and adored son Estebita. She will be missed dearly by her children Xiomara, Mireya (Paul) and Alxio (Eduardo). Alejandrina will be missed by her grandchildren Aquiles, Alejandra, Xiomarita, David, Roberto, Francisco, Andrea, Mariana, Alexander, great grandchildren, sister Miguelina and God daughter Miriam. She will be held dear in the hearts of her children, relatives, and many friends. The family will receive their friends at the Dixon-Garland Funeral Home, 166 Main Street North, Markham Ontario, (905) 294-2030 on Friday December 9, 2022 from 12 o'clock noon until service time in our chapel at 2 o'clock. Cremation will follow.
The family would like to thank the staff at Markhaven LTC for the warm, caring, and wonderful care she received during the last few months.
If desired, memorial donations in Alejandrina's memory may be made to the Hospital for sick children and would be appreciated by the family.
Alejita was born in Maiquetía, La Guaira, Venezuela, on March 17, 1927, Saint Patrick's Day. Second daughter of Manuel Adrian and Ana Luisa Arcaya. Gertrudis was her older sister, Florencio was her beloved brother and Miguelina, the youngest, continues to live in Venezuela.
A fighter, determined and an elegant woman that reminds you of the best, fine, and strongest wood. She dedicated her body and soul to raising her family, moving her family forward with intention and giving them everything and even more. She fought for her children to graduate so that they would have a better future. That was her unwavering goal.
She loved to sew. She took cutting and sewing classes and practised it for many years. She loved her old sewing table with its cute small little details where she kept her threads, scissors (untouchable because they were only for sewing), fabrics to make costumes, dresses, tablecloths, curtains, and repair everything that could continue to be used.
Alejita was a cook like no other. She prepared her aunts' recipes and repeated them every year depending on the occasion. She was famous for her Venezuelan dishes: Hallacas, chicken soup, mondongo, majarete and dulce de lechoza.
She was a home-finance expert. On Friday nights, she sat down with a pencil and paper to plan the menu for the week. Based on that, she made a market list that lasted the entire week. Nothing was to be wasted.
Her agility for Math was unmatched. For her, all subjects were important, but Mathematics was the one that interested her the most. She had a little brown book with many years of use that had millions of math operations. That little book was a daily bible. Nobody beat her with the multiplication table. Until recently, she was still quick to respond when asked for a multiplication. The Alzheimer's did not affect her math skills, nor her prayers. These two things were so important to her that she treasured them in her mind.
She loved a very cold salty beach. At whatever hour of the morning, she would get into the water. She had a particular style of swimming that seemed to many like she was drowning. A beach was her happy place from which she always came out renewed. Her beloved "Isla de Margarita" gave her much happiness. She thought that seawater was healing and miraculous.
Disciplined! What got in her mind, got done with dedication, effort, perseverance, commitment, time and patience. That is why she was so demanding with her children and raised them with energy and a lot of love when it came to achieving something, as seen in the case of the kid's studies. There was no weakness in her, she always proceeded with diligence and an admirable natural strength, never hopeless and always with great faith.
She had great wisdom. Already in her last years she surprised us with her sudden clarity and accuracy of some comments exactly at the right time. She was made of unwavering principles and ethics. No one could ever convince her to do something against her principles and values.
The years in Canada were an opportunity where Alejita had the blessing of reconnecting with part of her family that had already emigrated from Venezuela years before. That made her so happy.
She was a professional dancer who was proudly trained by her aunts and uncles and by the many opportunities to practise during the frequent dances at parties and in the "Maiquetía" square. Those dances were something she never forgot when she started to forget other things due to the Alzheimer. She especially remembered her father, who she said was a great dancer and party person. She inherited the teaching skills and was a dance teacher for cousins, children and grandchildren.
She had unshakable faith for her religion and her beloved friend "Jesus", with whom she talked all day. Alzheimer's also did not affect her faith, nor the memory of his prayers.
Alejita flies today like a butterfly to reunite with her beloved son, Estebita, a very large and special piece of her heart. When he left unexpectedly, he took a little piece of her with him. That they are now reunited gives us joy. She will also meet with her beloved Esteban Portales, who was a part of her life for more than 65 years and who protected and pampered her like no one else. Her dear "compadre" Chicho will be waiting for her with a "sancocho". Ana Luisa and Manuel will have flowers in their hands waiting for her. There will be a party in heaven to receive this good, wise and fighting soul. We here celebrate her fruitful life and her luminous eternity.
Fly high, Alejita. We will miss you!
Full version in Spanish please click here.


Share Your Memory of
Alejandrina