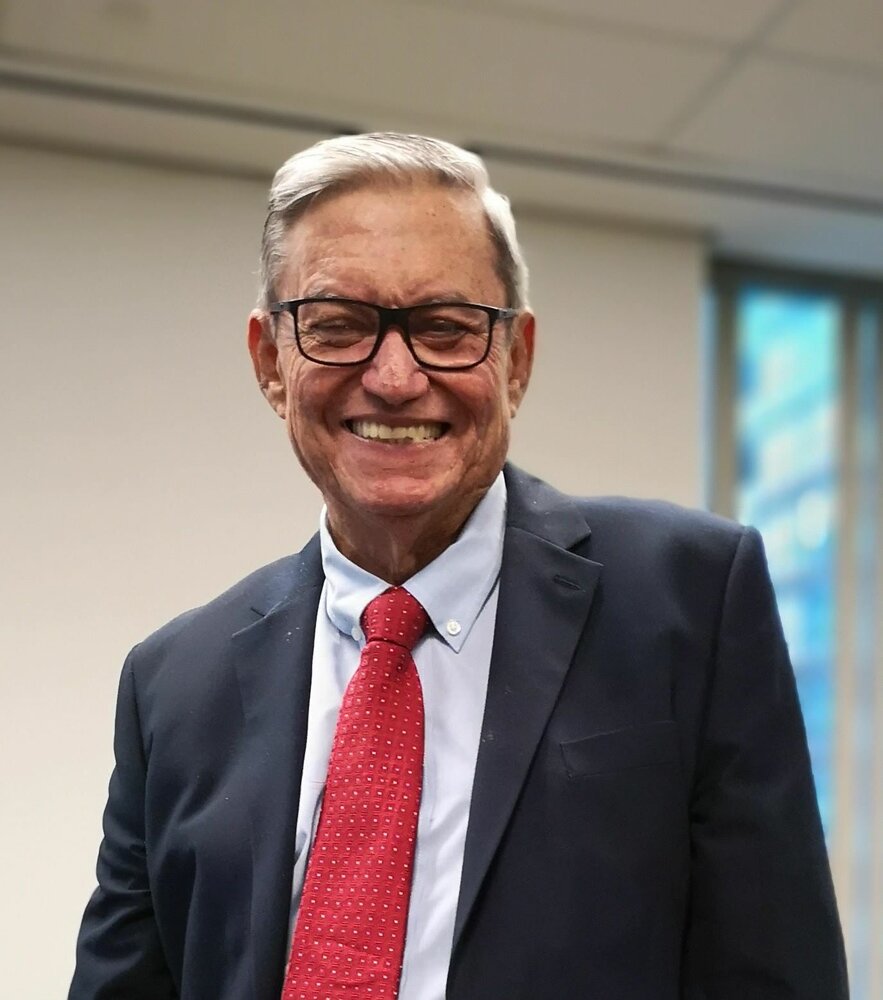 Obituary of Guillermo Rose

Guillermo Arturo Rose Carrillo passed away peacefully on June 29th, 2022, in his 74th year. Adoring and devoted husband of the late María del Carmen Sánchez Darcourt de Rose. Beloved father of Cecilia (Ryan) and Allan (Stephanie). Dear brother of Nancy (David), and loving uncle to Eric, Gabriel, and Isabelle.
He was a gifted storyteller, venturing into literature and writing short stories, poetry, and humorous articles. He placed first in "El Cuento de Las Mil Palabras" short story contest held by Peruvian magazine Caretas. He had an intense love of learning and a great passion for Language, History, Art, Literature and Music, dedicating his life to the promotion of Spanish-language Literature in Canada through his annual short story contest "Nuestra Palabra". He leaves a huge void in the Latino community in Canada.
He enjoyed playing the guitar, singing, dancing, playing chess, reciting poems, and participating as master of ceremonies. He was a talented painter. He also held a special interest in politics and loved sports like tennis, swimming and especially soccer. Proud of Peruvian gastronomy and its international popularity. He will be deeply missed by many near and far.
Family and friends will be received at the DIXON-GARLAND FUNERAL HOME, 166 Main Street Markham North, Markham on Friday July 22nd, 2022, at 10am for visitation, 11am memorial service, and 12pm reception.
We would like to extend a special thank you to the staff at the Markham Stouffville Hospital, Amica Swan Lake, and Bloom Stouffville Retirement Community for their outstanding care of our father.
As well, our sincerest gratitude to his friends and family that have reached out to us with condolences. A live stream of the service will be available for those who cannot attend in person.
-

Funeral Livestream
To access the livestream, click here and follow the prompt to enter your email address. You will immediately be sent a link in your email inbox (please check spam/trash folders if the link is not in your inbox). The link sent to your inbox will expire, so please sign up to access the livestream on the day of the service and keep the pre-ceremony page open until the stream begins. The service will be viewable after the livestream, as well. The livestream is set to start at 10:45am, service begins at 11:00am.

____________________________________

Guillermo Arturo Rose Carrillo partió al encuentro de Dios Nuestro Señor el día 29 de Junio del 2022, a los 74 años de edad. Amado y abnegado esposo de su fallecida y adorada señora María del Carmen Sánchez Darcourt de Rose. Padre ejemplar de sus adorados hijos Cecilia (Ryan) y Allan (Stephanie). Gran hermano mayor de su querida hermana Nancy (David) y amoroso tío de sus queridos sobrinos Eric, Gabriel e Isabelle.

Su intenso interés de aprendizaje desde la infancia lo convirtió en un niño muy precoz y culto. Su gran pasión por la Lengua, Historia, Arte, Literatura y Música lo convirtieron en un ser autodidacta.

Fue una persona dotada de mucho talento tanto académico como artístico. Incursionó en la literatura escribiendo cuentos cortos, poemas y artículos humorísticos. Fue ganador de "El Cuento de Las Mil Palabras" y dedicó su vida a fomentar el interés por la literatura en español en Canadá a través de su concurso "Nuestra Palabra". Su partida deja un gran vacío en la comunidad latina en Canadá.

Cabe mencionar que gozó tocando la guitarra, cantando, bailando, jugando al ajedrez, recitando poemas, participando como maestro de ceremonias, así como un interés muy particular por la política. Amante de los deportes como el tenis, la natación y sobre todo el fútbol. Orgulloso de la gastronomía peruana y su difusión internacional.

Se invita a todos sus familiares y amigos a los salones de la casa funeraria Dixon-Garland ubicada en 166 Main Street en Markham el día Viernes, 22 de Julio del 2022. El velatorio se llevará a cabo a las diez de la mañana seguido por el servicio conmemorativo a las once para culminar con la recepción a las doce del mediodía.

Quisiéramos expresar un agradecimiento especial al personal del Hospital Markham-Stouffville, Amica Swan Lake y Bloom Stouffville Retirement Community por la sobresaliente atención y cuidados prestados a nuestro padre.

Así también todo nuestro aprecio y gratitud a sus amigos, colegas y familiares quienes nos han contactado para expresarnos sus profundas condolencias. El servicio conmemorativo estará disponible en vivo a todos aquellos que no puedan acompañarnos en persona.

-
Transmisión en vivo del Servicio Conmemorativo
Para conectar con la transmisión en vivo Cliquear aquí, siga las indicaciones para ingresar su dirección de correo electrónico. Recibirá el enlace inmediatamente de lo contrario chequear las secciones Spam/Trash si el enlace no aparece en su Inbox. El enlace es válido sólo por tiempo limitado. Regístrese para obtener acceso a la transmisión en vivo el día del Servicio Conmemorativo y mantenga la página abierta antes del comienzo de la transmisión. El Servicio Conmemorativo estará disponible después de su transmisión en vivo. La transmisión en vivo está programada para comenzar a las 10:45am, el servicio comienza a las 11:00am.
Visitation
10:00 am - 11:00 am
Friday, July 22, 2022
Dixon - Garland Funeral Home
166 Main St. N.
Markham , Ontario, Canada
905-294-2030
Memorial Service
11:00 am
Friday, July 22, 2022
Dixon - Garland Funeral Home
166 Main St. N.
Markham , Ontario, Canada
905-294-2030
Reception
12:00 pm - 2:00 pm
Friday, July 22, 2022
Dixon - Garland Funeral Home
166 Main St. N.
Markham , Ontario, Canada
905-294-2030


Share Your Memory of
Guillermo