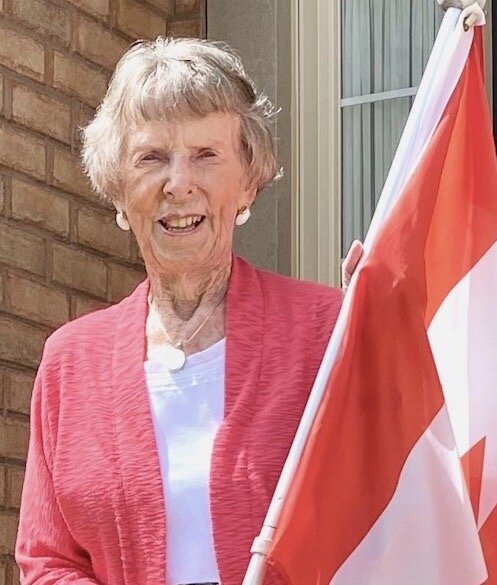 Obituary of Margaret Lenore Topping

Her many friends will be sad to learn of the passing on March 28, 2022 of Peggy Topping, a long-time resident of Stouffville. In our family-wheel, Peggy was the hub, the essential middle around which we all revolved. Even in her 96th year Peggy's cheery disposition remained a beacon of light and a source of admiration for many.

Predeceased in 2016 by her beloved husband of 69 years, Thomas Edward (Ted), Peggy continued to enjoy a full life focused around her Ballantrae home, her family, friends new and old, and a project she led for the Town.

She leaves her loving children, Ted (Tuija), Bob (Babs) and Tannis (Peter). Deeply saddened are grandchildren Steve, Chris, Charles, Alyson (Marc), Patrick (Rosie), Katrina (Vanessa) and Douglas, great-grandchildren Liam, Colette and Quinn, niece Carol, grand-niece Beatrice (Chris) and cousin Don. Predeceased by her wonderful parents Annie and Harold Williams of Toronto, and sisters Jeanne (Jack) and Evelyn.

Peggy and Ted met in 1941 and stayed close even while apart during WWII, when Peggy worked and helped with wounded soldiers in Toronto and Ted was a Royal Canadian Air Force pilot overseas. They married on March 29, 1947 and moved six years later to the Village of Stouffville, which they viewed as a good place to raise their family and where Peggy designed their first home.

Their busy life straddled the big city, where Ted was an executive with Grafton-Fraser Inc. and the small town where they became very active. In Stouffville they were founding members of the local variety show, Music Mania, a source of many long-lasting friendships and which Peggy Directed for 12 years. They also operated two stores, Ted's Men's Wear and The Marguerite Shoppe, and the Stanley Theatre.

Over the years Peggy was President of the Stouffville Figure Skating Club, a Leader with CGIT (Canadian Girls In Training) and helped rejuvenate the local Santa Claus Parade. For Canada's 1967 Centennial, she envisioned a new Civic Square incorporating Stouffville's historic clock tower, a project that was completed in time to host the July 1st celebrations.

Recently, Peggy realized the local Cemetery needed attention. She presented a rejuvenation plan to Stouffville Council, which approved an upgrade and long-range plan for the Town's Cemeteries, and a new Cemetery Committee, of which Peggy was a member until very recently. The family will appreciate the improvements when we visit soon.

The couple were active members at York Downs and Atlantis (Florida) Golf Clubs, where Peggy was very involved as a director and on numerous committees. An excellent golfer, Peggy won numerous club-championships. Ballantrae neighbours will remember Peggy's recent triumphant walks in the local Olympics, or organizing a weekly street-sing-along of O Canada during the pandemic. With a creative flair, she decorated their comfortable, music-filled homes and she was a professional decorator for many years. The ultimate hostess, her events were always welcoming. She was "The Director" to the very end.

Peggy was grateful for her wonderful life including special friends and her beloved family, all of whom benefited from her love and support. Those of us left behind have heard an outpouring of affection, with the most common phrase being, "I just loved your Mom!" We will all miss her so.

Our sincere appreciation goes to Dr. Sarah Barclay, Dr. Andrew Patterson, care-givers Paulette Paul, Rowena O'Shea and loyal neighbours Marilyn and Bob Hall. In lieu of flowers please consider a donation to Evergreen Palliative Care or Markham Stouffville Hospital Foundation. A Memorial Service will be held at 11:00 am on Saturday, May 7, 2022 at Dixon-Garland Funeral Home, 166 Main St. N, Markham, that can be viewed online.

Masks respectfully requested for the service.

Funeral Livestream
You can access the livestream by clicking the link below and following the prompt to enter your email address. You will immediately be sent a link in your email inbox (please check spam/trash folders if the link is not in your inbox). The link sent to your inbox will expire, so please sign up to access the livestream on the day of the service and keep the pre-ceremony page open until the stream begins. The service will be viewable after the livestream, as well. The livestream is set to start at 10:55am.
Click HERE to access the memorial service livestream for Mrs. Peggy Topping.
Memorial Service for Mrs. Peggy Topping
11:00 am - 12:00 pm
Saturday, May 7, 2022
Dixon - Garland Funeral Home
166 Main St. N.
Markham , Ontario, Canada
905-294-2030
Masks respectfully requested for the service.
Reception for Mrs. Peggy Topping
12:00 pm - 2:00 pm
Saturday, May 7, 2022
Dixon - Garland Funeral Home
166 Main St. N.
Markham , Ontario, Canada
905-294-2030


Share Your Memory of
Margaret