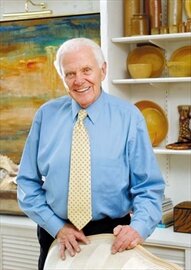 Obituary of Douglas Meharg

Born February 6, 1931, in Markham, ON. Died February 19, 2022, of natural causes, at Union Villa long-term care home in Markham, ON.
Most people would describe Douglas Meharg as a truly good man. There are two characteristics that might adequately summarize Doug's 91 years: a commitment to life-long learning, and a desire to help others succeed.
School was never easy for Doug. He always joked that he spent two years in Grade 9, and two days in Grade 10 before the principal informed him he should head home and give up on school. Undeterred, he became a carpenter's apprentice and went on to build his first house by age 17. At 23 he attended the first of many personal and professional development courses and seminars over his lifetime - it started with the Dale Carnegie Course and finished up with Peak Potentials.
Over the 55 years of his career, he built or developed approximately 500 houses in the Markham area, and had great success as a real estate agent, broker, and franchise owner.
Markham was growing and Doug and his team won the accolade of Top Producing Brokerage in Century 21 Canada for three consecutive years during the 1980s. Also in the 80s, he was proud to pass the Power Squadron and Sailing exam that allowed him to confidently navigate across Lake Ontario to Rochester, New York.
Establishing his own success only made Doug want to encourage others. From a very humble market gardening family of Northern Irish immigrants, he eventually coached and inspired real estate agents, his peers, and children. Doug read great books, and when he found one that expressed his feelings, goals, and thoughts, he would buy many copies to give away to friends and colleagues. He aspired to be an author and wrote his first book, Become a Richer You, at age 78, and his second, Do It Now!, at age 81. Both books focus on money management skills that he noticed were lacking in the school system.
Doug committed to living a healthy life and had the habits to show it. Other than his love of butter tarts and ice cream, he stretched, played tennis, worked out at the gym, and skied at Skyloft most weekends right up until he turned 80. He loved Skyloft so much that he bought the property in 1995 and continued to run and invest in the facilities until 2006.
Doug's legacy is found in the Markham community. He was a fixture at T&T Bakery where he found much camaraderie - they even had a mug for him with his name. He ran for town council but lost to former reeve and mayor Alma Walker. In 1977 he was instrumental in helping the Markham Fair move from its original location (the current Markham Village Community Centre & Library) to the expansive rural tract at McCowan & Elgin Mills Road. Also in 1977, (in a visionary but possibly premature initiative!), he opened Canada's first indoor skateboard park. His passion and commitment to the Markham-Stouffville Hospital go back 70 years. As president of the Markham Junior Chamber of Commerce and later as part of the Foundation's Ambassador Committee, Doug was one of a team of dedicated volunteers who made the hospital what it is today. As a young lad of sixteen, Doug never forgot the painful ordeal he endured to get his tonsils out. From the cornfields of Markham, he hitchhiked downtown to get the care he needed. It was through this experience he realized that at the heart of every vibrant community is its hospital, and his family is grateful for the care he received there over the last several years.
Survived by his wife Johanna (Holancin), son William (Sylvia); daughters Angela and Sarah (John); grandsons Sean, Robert, and Timothy; granddaughters Lauren and Victoria; great-granddaughter Gracie; nephew David and niece Lorrie.
Predeceased by his parents James and Margaret (McCreery); former spouse Ann and their son Michael; brothers James, Victor, and fraternal twin Gerald; nephew Brian and niece Wendy.
Donations to the Markham-Stouffville Hospital by clicking here would be appreciated. A celebration of life is being planned for Spring 2022. Please contact Angela Meharg (angela@datisfy.com) if you would like to attend.


Share Your Memory of
Douglas