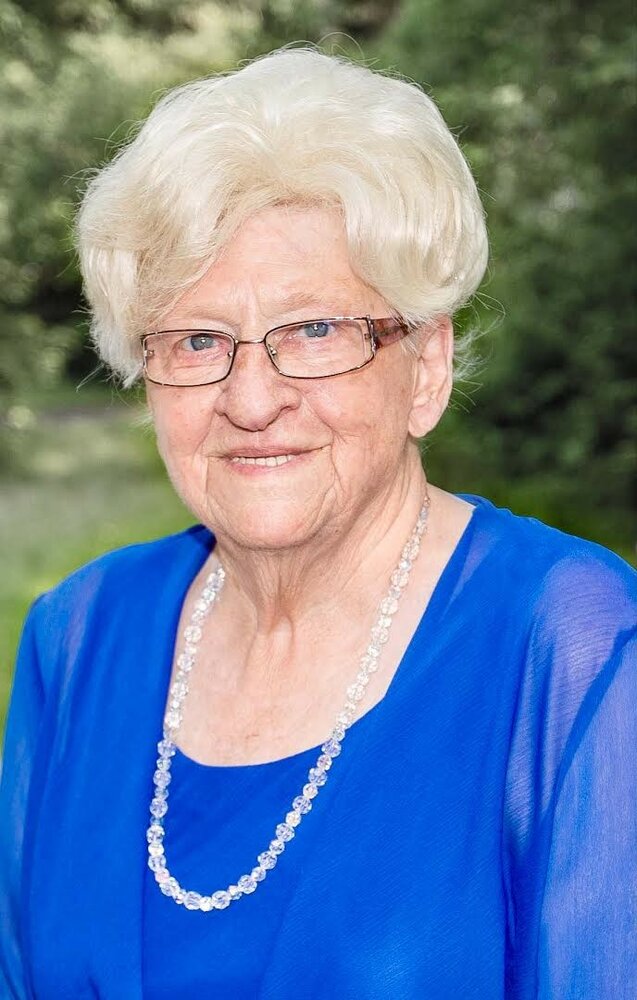 Obituary of Anny Blenich
Anny Blenich (nee Schick) was born in the picturesque village of Truchtelfingen, Germany, where many of her relatives still reside to this day. The second child of Emil and Marie (nee Baur), Anny is survived by her older brother Walter, sister Doris, younger brother Gerhard and sister-in-law Marie Luise. A florist by trade, Anny worked in flower shops in Germany prior to immigrating to Canada, but her love for flowers lasted her entire life, with beautiful fresh cut bouquets often found in her home.
In 1953 she married her husband Daniel, whom she met through a shared enjoyment of church choirs. They remained married up until his passing in 1993. Together they had three children whom they adored, Christel (Simon) Gardner, Gretel (Phillip) Cracknell and Peter (Darlene) Blenich.
In 1956 Anny and Daniel immigrated from Rotterdam to Halifax, Canada, with their eldest child Christel. They then travelled by train to Toronto, Ontario, where Anny and her family planted their roots.
In 1968 Anny and Daniel started their own woodworking business which they named A & D Woodturning, a business that still operates to this day and remains in the family. For years Anny worked tirelessly to support her husband in the business, whether it was by taking care of the books, the office plants or working on the sander. Together the pair built a thriving business in Richmond Hill which gave her a deep sense of pride. For more then 60 years she was involved with Christus Kirche/Warden Full Gospel Assembly and Bethel Park Camp. Described as one of the pioneers of the church and camp, Anny could often be found volunteering in the church kitchen or cooking for an army of children at Kid's Camp. The kitchen was her workshop, she would say, and she was considered by many an expert cook and baker. Her potato salad and bienenstich were legendary.
Anny had many hobbies and interests, including a passion for knitting. Many of her beautiful sweaters and baby blankets are still being worn by her grandchildren and great-grandchildren today.
She enjoyed travelling the world, first with her husband Daniel and later on with her children and grandchildren. She loved a good Ravensburger puzzle, a hot cup of coffee and chocolate. She could often be found completing a crossword or baking a cake. She loved listening to German hymns, a pastime that lasted until her final breath. She was always honest and straight to the point, never holding back on letting you know how she truly felt.
She was a devoted mother, wife and homemaker, who worked tirelessly for the greater good of her family, the family business and her church. She leaves behind her seven grandchildren: Julianne (Bradley) Elkington, Angelica (Chad) Ingram, Andrew (Anika) Gardner, Daniel (Kathleen) Blenich, Denise Cracknell, Nicolas Blenich and Emilie Blenich. She will be missed by her nine great-grandchildren: Liam and Clark Elkington, Levi, Theodore and Henry Gardner, Evangeline and Abigail Ingram, and Lucia and Anny Blenich, who was born just one month ago. She is survived by many nieces and nephews and great nieces and nephews whom she loved.
Anny passed away peacefully on December 9, 2021 with her three children by her side at Woodhaven Long Term Care Residence. Funeral arrangements have been entrusted to Dixon-Garland Funeral Home in Markham. In honour of Anny, donations can be made to Bethel Park Camp by e-transfer making note in the message box the donation is in memory of Anny Blenich at bookkeeper@bethelpark.ca or by cheque to the funeral home or by mail to Bethel Park Camp. COVID protocols will be in place. A private internment will take place following the funeral at The Thornhill Cemetery.
First Visitation
7:00 pm - 9:00 pm
Friday, December 17, 2021
Warden Full Gospel Assembly
2210 Warden Avenue
Scarborough, Ontario, Canada
416-494-2201
Second Visitation
10:00 am - 11:00 am
Saturday, December 18, 2021
Warden Full Gospel Assembly
2210 Warden Avenue
Scarborough, Ontario, Canada
416-494-2201
Funeral Service
11:00 am
Saturday, December 18, 2021
Warden Full Gospel Assembly
2210 Warden Avenue
Scarborough, Ontario, Canada
416-494-2201


Share Your Memory of
Anny