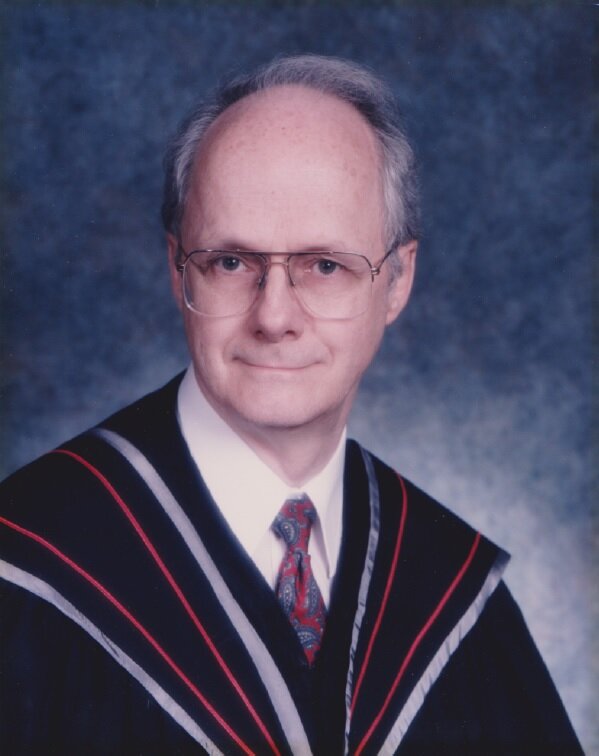 Obituary of Phil Locke

Philip Walter Locke
1937 - 2021
Unexpectedly, after a brief illness, at Markham-Stouffville Hospital, aged 84. Phil is survived by Jean (née Greig), his loving wife of 56 years. Loving father of Brian (Donna), Steve (Rachelle) and Ken (Daphne). Extremely proud grandpa to Henry, Dean, Roxanne, Spencer and Rebecca. Predeceased by parents Vida and Lester, and siblings John, Kathy and Eric.
Phil was truly a man of diverse interests. He shared his father's love of math and physics, and pursued these subjects at University College, University of Toronto, graduating in 1959. He had a 32-year career as a programmer and systems analyst at Ontario Hydro, where his greatest achievement was to create a computer simulation of the power grid in Ontario, enabling changes that improved reliability and saved millions of dollars. He took early retirement at the time of the Hydro downsizing, which allowed him to pursue another lifelong interest: Phil completed his Masters degree in Religious Education at Emmanuel College, University of Toronto, in 1995. He continued his interest in Christian scholarship for many years.
Phil was well known for his musical talents as a vocalist, pianist and conductor. He sang in the Toronto Mendelssohn Choir, featured as a regular soloist in church, and once participated as a chorus member in Verdi's Aïda. He conducted the choir at Ontario Hydro for 17 years and was a frequent piano accompanist in many settings. Phil and Jean brought their sons up in a house filled with music, where he regularly played the piano works of Chopin, Beethoven and Mendelssohn. In later years, he and Jean sang regularly in the community choir in Swan Lake Village, Markham.
Phil provided a lifelong example of generosity, tolerance, compassion and unwavering honesty for us all. He was always ready to jump in and assist whenever he was needed. During the 1980s, he was one of the leaders of an interfaith group in support of affordable housing in Toronto. When Steve's hockey team lacked a coach, he volunteered, despite having never played or coached the game. He did the same when a local Boy Scout group needed a leader. He continued to volunteer into his later years, leading the design and building of a performance space in the Swan Lake community.
Of all his achievements, Phil was most proud of his family. He was devoted to his sons and gave enthusiastic support to their emerging interests in music, business and medicine. He delighted in recounting the ongoing achievements of his grandchildren. Phil enjoyed every opportunity to travel and experience cultures around the world. He relished the chance to see the treasures of art, architecture, and history of every place he visited. Given time, he would have seen all of it.
In our time of sorrow, Phil's family takes comfort in knowing how much he inspired us. His influence will continue through the generations. We will miss him.
A funeral will be held at Dixon-Garland Funeral Home, 166 Main St N, Markham, on October 28, 2021. Visitation at 1 pm followed by a service at 2 pm. In coming months, we will hold a celebration of Phil's life. We deeply appreciate all the physicians and nurses who cared for him in his final days. In lieu of flowers, donations in Phil's name to the Heart and Stroke Foundation, Prostate Cancer Canada, the Toronto Symphony Orchestra, and Markham Stouffville Hospital Foundation would be appreciated.
Funeral Livestream

You can access the recorded service by clicking here and following the prompt to enter your email address. You will immediately be sent a direct link in your email inbox (please check spam/trash folders if the link is not in your inbox). The link expires quickly, so please sign up to access it on the day of the service and keep the pre-ceremony page open until the stream begins. The service will be viewable after the livestream, as well.
Visitation
1:00 pm - 2:00 pm
Thursday, October 28, 2021
Dixon - Garland Funeral Home
166 Main St. N.
Markham , Ontario, Canada
905-294-2030
Please be advised that all attendees must wear a mask while inside the funeral home and will be asked to fulfill a screening form upon entry. In order to maintain physical distancing, the funeral home will stagger entry into the visitation, so please be aware that you may have to line up.
Memorial Service
2:00 pm
Thursday, October 28, 2021
Dixon - Garland Funeral Home
166 Main St. N.
Markham , Ontario, Canada
905-294-2030
Please be advised that there is a limit of 60 guests for the Memorial Service. For those who aren't able to attend the service in person, there will be a livestream link to watch from home.


Share Your Memory of
Phil