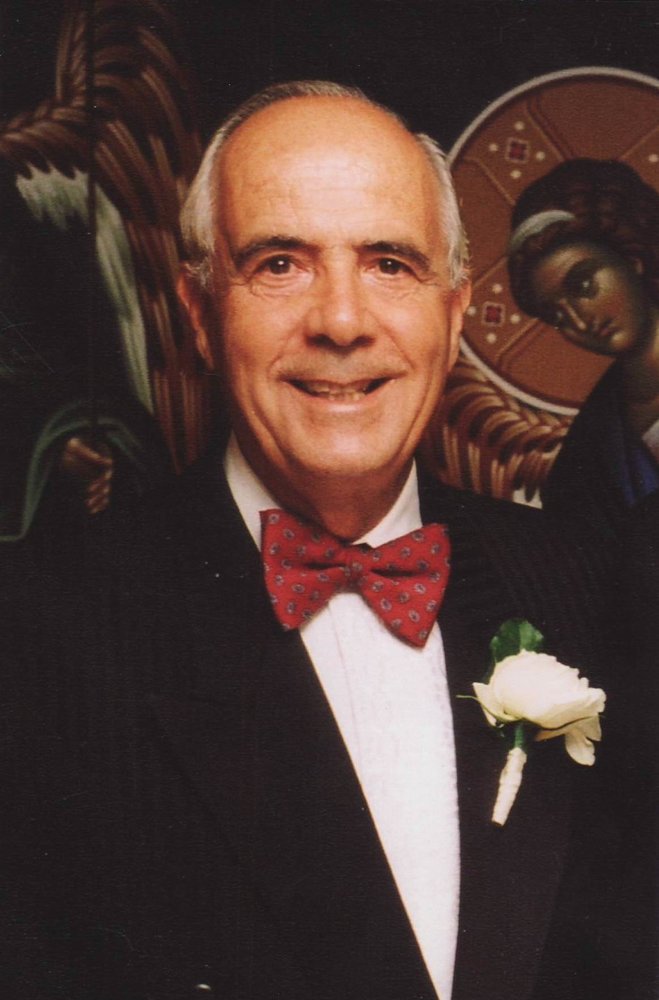 Obituary of Klitos Argyrides
"To be absent from the body is to be present with the Lord" (2 Corinthians 5:8)
On Saturday January 9th, 2021, dearest Husband, Father, and Pappou, Klitos Argyrides passed away peacefully the way he lived—on his own terms, surrounded by his family, testifying to his Greek Orthodox faith and beliefs by glorifying the Lord to his last breath. Glory to God!
We are so blessed to have loved this incredible man into his 90th year. He was the bright light in our lives and the 'pillar' of all the Argyrides families—our hero, our rock, our North Star. We lived in his light and love and he filled us with strength and courage.
Our hearts are broken, but rather than mourn his loss, we want to celebrate his life, his tremendous spirit, and the joy he brought into everyone's life—most especially the love and blessings he gave to us.
From Cyprus to Canada

Klitos was born in Prodromos, Cyprus on November 12th, 1930, the son of humble farmer parents. He was the fourth of five brothers who have predeceased him: Andreas, Costas, Neophytos, and Michael. He loved his brothers dearly and spoke of them with admiration until the very end.
Dad came to Canada in 1950 at the age of 20 with $5 in his pocket, not knowing anyone and not having any relatives here. What he did have was spirit and the determination to make it! He worked and studied Global Hospitality Hotel Restaurant Management in England, and being a lifelong learner, went back to school in his mid-50s and earned a degree from Humber College. He graduated with honors and was recognized as the oldest student in his graduating class.
Dad was a proud Greek Canadian, always grateful for and appreciative of the opportunities Canada gave him over his 50-year career starting at the Berengaria Hotel in Prodromos, Cyprus and crossing Canada to the famous Banff Springs Hotel then settling back to Toronto. He had a passion and talent for entertaining.
In the 26 years that Dad owned K & A Catering at the Ontario Jockey Club Woodbine Racetrack, he received many accolades for his performance and incredible work ethic.
He spoke so simply and humbly of serving the Queen of England, Prince Phillip, Prince Charles, and many from the Royal family over numerous years at the Queens Plate. He often laughed and joked about stories involving Richard Burton and Elizabeth Taylor at the King Edward Hotel, and he smiled when he spoke of serving the quiet and elegant Bing Crosby at the Royal York.
Dad's talent, charisma, and entrepreneurial spirit contributed to his success in the hospitality industry. He built his professional relationships around honesty, trust, and dedication.
Community Service

From 1956 through 2006, Dad was an active member of the Horseman's Benevolent Association, the Ontario Racing Commission, and the Ontario Jockey Club. With his brothers, he owned Hellenic Stables and achieved historic success in the horse racing industry (All Canadian, Dance for Lucy, and more).
Dad served the communities he was part of in many other ways:
He was an AHEPAN and a lifetime member of the Greek Cypriot Community.
He served on the Board of his beloved All Saints Greek Orthodox Church after retirement and helped to administer the Ayton Scholarship.
He supported St. Kosmas Aitolos Monastery in Bolton, Ontario.
He was a proud member of St. Stefanos Greek Orthodox Church in Florida and Holy Trinity in Tennessee.
Family and Faith

A loyal family man, Dad married the love of his life, Cleo, his 'bride' for 57 years. He was a proud father and cheerleader of his daughters, Julia and Lucie. He was blessed with three beautiful and precious grandchildren—Nicholas, Sophia and Joshua—whom he doted on and had a special bond with. The best Pappou in the world, he would come home from a long day's work, get on the floor, and play Lego, cars and dolls with his grandbabies. He loved to take them on long walks, spend time in the park and playground, teach them how to swim, ride their bike and play tennis.
He enjoyed travelling the world with his family and teaching them to appreciate, explore and experience different cultures and the importance of history. Trips, he said, were not only for pleasure but also a form of continuing education.
Dad was an avid golfer, tennis player, swimmer and gardener. He was always active and, on the go, a strong believer in the link between a healthy mind and healthy body. In his golden years, he and Cleo split their time between Canada, the United States, and Cyprus.
Dad devoted his life to his faith and family. He lived with the belief that he should "help people every day." His greatest gift to others was his generous and selfless heart. He touched the lives of many people, especially Greek Cypriots he sponsored to come to Canada and make a better life for themselves.
In the autobiography he wrote after his retirement, Dad reflected on the ups and downs of his life's journey, and expressed pride in his Cypriot roots and Christian values. His vision in life was all about family. "Be united" was his motto, "Family first" was his philosophy, "Love everybody" was his way of living his truth.
Character

Our Dad was humble, unendingly kind, and happiest when those he loved were around. We rejoice in his extraordinary life, and we feel grateful and blessed to have been loved by him. The important life lessons he taught have been ingrained in us over our lifetime. We will honor and follow his example of respect, integrity, humility, and zest for life all the days of our lives. The world could learn much from our Dad's strength and beliefs.
Dad died as he lived: with faith, hope, grace, and love. His journey now continues to the most beautiful heaven above. His spirit called him home like a happy child. He was ready to go to his forever home with Our Lord and to have Jesus welcome him into His Kingdom, where there is no pain, no sorrow, no suffering.
We love and thank you, our dear sweet Husband, Daddy, Pappou.
Continue to watch over us from above.
You will forever be remembered and cherished.
Eternal be your Memory.
* * * * *
Klitos is survived by his wife, 2 daughters, 3 grandchildren, 3 sisters-in-law and many nieces and nephews in Canada, the United States and Cyprus. He will be laid to rest in a private funeral service at All Saints Greek Orthodox Church.
Due to Covid-19 restrictions there will be no viewing.
We thank family and friends from all over the world for the incredible love and tributes shared with us in notes, calls, and emails.


---
The Funeral Service will be held at All Saints Greek Orthodox Church, 222 Burbank Drive, North York on Wednesday, January 13, 2021 at 1 p.m. Due to current government restrictions the Service will be attended by immediate family only. If any fellow parishioner would like to show their support to the family and bid farewell to our dear Klitos, you are welcome to systematically line your cars up in the church parking lot just before 2 p.m. when the Service will end. Social distancing is to be respected. Per current regulations you are asked to please stay in or stand just beside your vehicles and not to approach the family or funeral coach for any reason.
Drive-by farewell for Klitos Argyrides
Wednesday, January 13
approximately 2 pm
1. ENTER the parking lot from Bayview Avenue. Plan to arrive between 1:30 and 1:45 pm. Cars that try to enter the parking lot from Burbank will be asked to go around to Bayview so that the exit remains clear.
2. PARK anywhere in the parking lot. Please stay in your car, or stand next to your car.
3. DRIVE past the family and the hearse after they have exited the church. Ushers will signal when it's time for cars to drive out of the parking lot toward Burbank, one at a time. We'll start with the cars closest to the church and work west. Feel free to open your window and wave.
4. EXIT the parking lot to Burbank. You continue south on Burbank to Sheppard or turn right at Burleigh Heights to return to Bayview Avenue.

* * * * *
The funeral service for Klitos will be streamed live on the All Saints Youtube channel. Click here at 1 pm to join the family virtually.

Please note that the service will not be recorded. If you are in the parking lot, you can listen/watch also.


Share Your Memory of
Klitos