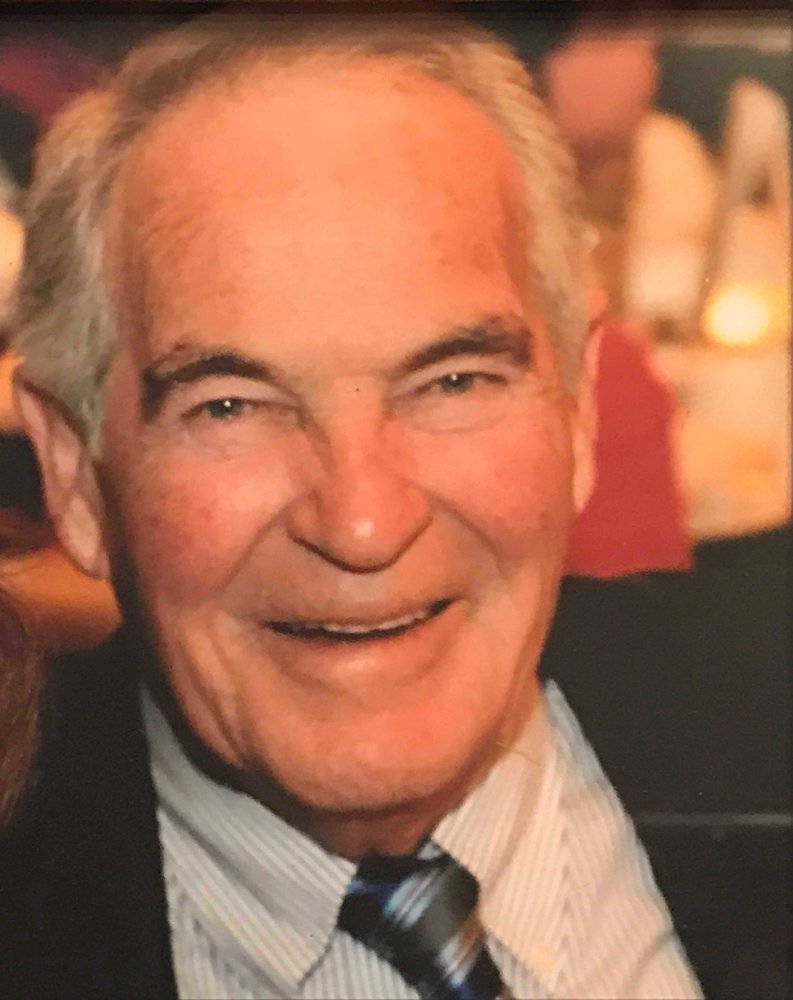 Obituary of Wayne Keith Pinsonneault
It is with great sadness that we announce the passing of Wayne Keith Pinsonneault on December 11, 2019, at Markham Stouffville Hospital. Wayne passed quietly with his loving family by his side. Cherished husband and best friend of Janet. Beloved father of Wayne (Janice), Lisa (Frank), Melanie (Serge), Claire and Chelsea (Gary). Proud Grandfather of Kyle, Laura, Amy, Louie, Bianca, Francesco and Emma Jayne. Dear Great-grandfather of Colin and Henry. Wayne was born in Chatham, Ontario to the late Wilfred (Chatham) and Jeannie Pinsonneault (Huntley, Scotland). He was one of eight children including his brothers Wilfred, Louis, Beverly and Glen and his sisters Delores, Celeste and Vivienne. Growing up, Wayne loved sports and being outdoors. As a teenager he was a gifted hockey player and was scouted by the Detroit Red Wings. His father, however, encouraged him to pursue an education and so Wayne joined the Air Force. Following his time in service, he went on to work in the manufacturing industry most notably in can manufacturing plants including American Can, Continental Can, Ball Industries and Crown Metal Packaging. He was well-liked and respected by his colleagues for his very sociable nature, excellent mechanical abilities and problem solving skills. His greatest love, however, was always his family and time spent with them. He was a devoted father, taking great pride and enjoyment in his children. His son Wayne and daughters Lisa and Melanie were his joy. His life took on a new phase when he married Janet in 1986. His love for her was deep and never faltered. She was forever his best friend because, as he once told his daughter, she was all he ever needed. In 1989 and 1992, Wayne was blessed with two more children, Claire and Chelsea, who kept him young at heart and an active parent at a time when most others his age were retired. But that was never Wayne's desire. His family, quite simply, was his joy. The other joy in his life was time spent in Florida with his growing family and friends. He loved nothing better than to sit with a cup of coffee and watch the endless ocean tides come and go. His joy at the sight of the sea birds and dolphins was never lessened by time. Wayne's ever-present smile, quick laughter and sociable disposition won him friends wherever he went. Happy by nature and always young at heart, he loved the company of others as he enjoyed listening to their stories and sharing some of his own. His laughter was infectious and his heart was made of gold. If you needed help, if you needed a friend, Wayne was there. Janet often told him that one of the greatest gifts he ever gave her was the gift of making the acquaintance of their best friends, Sharon and Wayne McClellan, here in Markham and, in his beloved Redington Shores, Florida, Brett and Michelle Wellman and family of Bloomington, Indiana. The strongest man we ever knew in mind and spirit eventually met his most formidable challenge when diagnosed with Alzheimer's disease. Despite its terrible ravages, Wayne never lost his beautiful smile, fighting spirit or the love and recognition of his beloved family. Although we shed our tears and grieve the loss of his physical presence, the touch of a gentle hand and the ever-present twinkle in his eyes, we believe that his spirit lives on reunited with loved ones who have gone before him. As always, he will be our protector and guide watching from a distance now but still as present in our lives as he always has been. We have asked Wayne to wait for us at the gates when it is our turn. We pray that God blesses and keeps Wayne in eternal peace, youth, health and happiness until we meet again in Paradise. Wayne's family wishes to extend their most heartfelt thanks to those who helped him during his battle with Alzheimer's including the Alzheimer's Society of Canada and their day program in Stouffville, Loft, and Markham Stouffville Hospital. Special thanks to the compassionate care provided by the angels among us working at Cummer Lodge and Bloomington Cove Care Community. We love you, Paulette and Odette. Thank you one and all. Wayne…. We would do it all again. Every precious moment. We love you. You live forever in our hearts.
"Our lives are better left to chance.
could have missed the pain, but
i'd have had to miss the dance."
Garth Brooks
Funeral mass for Wayne will be held on January 10, 2020, at St. Patrick's Church, Markham, at 10 am. A reception at Dixon Garland Funeral Home, 166 Main Street North, Markham, to follow. In lieu of flowers, donations to the Alzheimers Society of Canada and prayers for a cure would be deeply appreciated.
Memorial Mass
10:00 am
Friday, January 10, 2020
St. Patrick's Parish
5633 Highway #7
Markham, Ontario, Canada
Share Your Memory of
Wayne