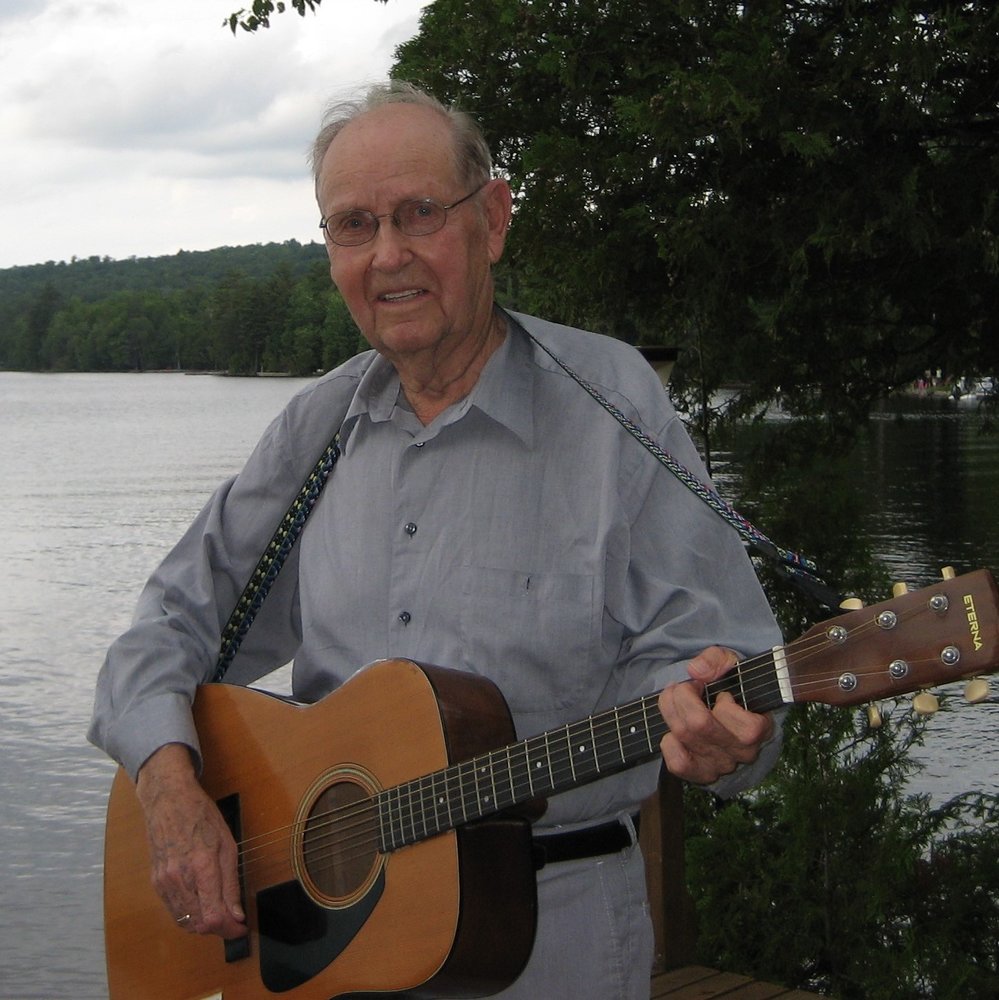 Obituary of Denis David Underhill
At the age of 95, Denis passed away peacefully November 5th, 2019 at Bloomington Cove in Stouffville, Ontario. Predeceased by his loving wife Betty Jane (2013) and his two brothers, Lawrence (1999) and Franklin (2010). Devoted father of Nancy (Keith Beard), Stephen, Noreen (Dairel McHale), Cheryl (Bryan Murchison), Jill (Michael Dosman), Suzanne (Randy Lean) and Donna (Todd Yates). Loving grandfather of Lauren (Marcel Gort), Kelly (Sumon Mukherjee), Ryan, Cory, Jesse, Daniel, Peter (Nadia Galle), Jacob, Kate, Jamie (Michael Kuntz), Blair (Shane Smith) and Thomas. Also, loving great grandfather to Rowan, Lillian, Isabella, and Elijah.
Denis was born in Toronto, Ontario on August 25th, 1924. Denis grew up on Holmes Avenue in Willowdale, Ontario, with his parents Thomas Edward and Ellen Lines, (nee Burbidge) and his two brothers, (Lawrence and Franklin). He attended McKee Public School and Earl Haig Secondary School.
Denis was a World War II Veteran. In September 1943 he enlisted in the Canadian Armed Forces and trained as a gunner in Halifax, Nova Scotia. In August 1944 he was deployed to the UK and Europe and served until his discharge in April 1946
Denis met the love of his life, Betty Jane Mount In 1943 when she was only 14. Betty's mother Jeanne had a second marriage to Denis' uncle Dave Burbidge. The Burbidges (Denis's mother's family) had a farm at Steeles and Bayview and Denis used to go there to see the horses – or so they thought at first. After the war he started visiting the farm more and more frequently. The family realized that it wasn't the horses he was coming to see but the lovely young stepdaughter of his Uncle Dave. Betty was now 17 and they married a year later on October 3rd, 1947. They raised their 7 children on May Avenue in Richmond Hill, Ontario.
Denis started working with his father as a furrier in the early 50's. He also worked at Ratcliffs of Canada in Richmond Hill. From there he went on to have a successful career in insurance with Prudential Insurance Company of Canada. Denis took early retirement from Prudential and soon after they sold their house in Richmond Hill. They bought a condo in Lake Worth, Florida. They spent summers at the cottage in Norland, Ontario and winters at the condo.
Denis will fondly be remembered for his humour and his music. Denis wrote many songs and played the guitar and harmonica. He loved Hank Snow and all the country and western songs. He performed for many years at several Royal Canadian Legions, in Florida at the VFWs and at many weddings and family gatherings. There is an excerpt from one of his songs below.
We wish to thank all the staff at Bloomington Cove for their dedication and compassionate care of Denis over the past five years. Very special mention to Mun Young the unit RPN as well as Marry, Mona, Janelyn and all of the wonderful staff on Heritage House.
Family and friends will be received on Friday November 22, 2019 at the Dixon-Garland Funeral Home in Markham. Visitation at 10am, Service at 11 am, Reception to follow.
Denis will be interred at 3:00 pm at Pinegrove Cemetery in Norland, ON. (City of Kawartha Lakes)
"That Old Red Rescue Truck"
Lyrics and Music by Denis Underhill
I hear that old red rescue truck a speeding down my way
Those blazing sirens in my ears don't help to make my day
I have so many aches and pains but I know I'm not alone
Taking all those doctor pills sitting here at home
I came down to the sunny south and love the sea and sand
To live it up the best I could in this live forever land
And even in my golden years my heart just won't sit still
There's always many things out there to give my life a thrill
Just because my hair is gray and my walk is getting slow
Can't do the things I used to do but always like to go
I intend to keep on going, I'll always fill my cup
And spend the days with joy and fun until my time is up.
Visitation
10:00 am - 11:00 am
Friday, November 22, 2019
Dixon-Garland Funeral Home
166 Main Street North
Markham, Ontario, Canada
Funeral Service
11:00 am
Friday, November 22, 2019
Dixon-Garland Funeral Home
166 Main Street North
Markham, Ontario, Canada
Interment
3:00 pm
Friday, November 22, 2019
Pine Grove Cemetery
5 Hilton's Point Road
Norland, Ontario, Canada
Family will be leaving at 1pm to attend the interment.
Share Your Memory of
Denis