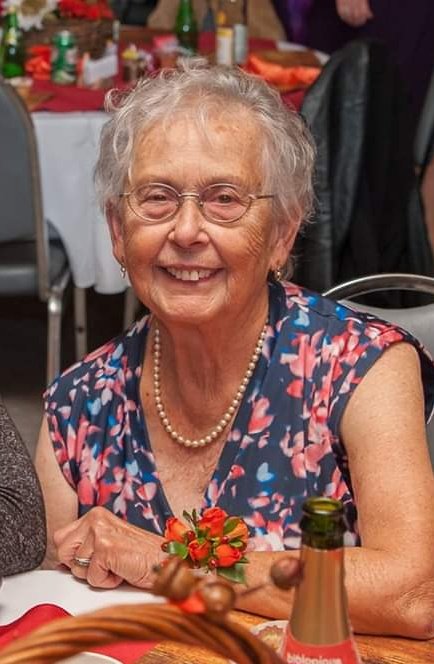 Obituary of Grace Pearl Medland
GRACE PEARL MEDLAND –Passed away peacefully on July 29th 2019 surrounded by family at Markham Stouffville Hospital. Grace was the beloved wife of the late Bruce Medland, and mother to Jacqueline Bell (John Bell), Kathryn Medland (Pierre Savoie), and the late Ian Medland (Darlene Johnson). She is survived by her sister Kaye Smith (Jack Smith dec'd), and brother Bruce Taylor (Josie Taylor). She was known as "Nana" by dozens, including her grandchildren Earyn Wheatley (Emma Pullman), Rob Bell (Malisa Deodath), Evan Wheatley, Ryan Wheatley (Jenna Wheatley), Justin Bell, Shamith and Nisheka Samarakkody. She was also very proud to welcome into the family her first great grandchild Matthew Bell early last year.
Grace lived nearly all of her life in Markham, and spent decades dedicated to service in her community. Originally born in Toronto she spent much of her childhood with her seven siblings on her parents' farm near 16th Avenue and McCowan Road. She met the love of her life at age 16 and they were married 2 years later on July 18th, 1953. Together Grace and Bruce raised three loving children, a handful of dogs, and even a few budgies.
Known by many names including Mom, Nana and Auntie Grace - she was the centre of her family. Along with her husband and children she spent most of her married life living with grandparents, aunts, and eventually her mother. With the birth of her first grandchild in 1986, she donned the title Nana, and took to being a grandmother with unparalleled enthusiasm. Over the next 3 decades Grace served as the family's link between past and present – fiercely involved in the lives of her grandchildren, while simultaneously acting as the family historian. Her home was an intergenerational hub where folks of all ages lived, loved and shared together. This was best demonstrated by her hosting a yearly family picnic, inviting family members from across the country to spend time together, and sample innumerable variations of potato salad.
In 2010 she moved in with Jacqueline and John, in their house that had fortuitously been built on the exact location of her family's old farm house on McCowan Road. Her role as Grandmother grew to include adopted family members, and the partners of her grandchildren. She loved traveling with her grandkids and had memorable trips to Alaska and Scotland, as well as regular visits to her trailer.
Her generosity and caring extended beyond her family, as she was a dedicated community volunteer. She joined the Markham Lion's Club in 2000, alongside her husband Bruce who had been a member of the organization for decades. In 2007 she became the club's first female president and continued to serve for the rest of her life. She embodied the Lion's Club directive to be an advocate for those in need. She was committed to the Lion's Club Dog Guide program, raising thousands of dollars over the years to train service dogs.
Youth work was also close to Grace's heart. Beginning in the 1990's she became involved with Girl Guides and Scouts, under the title "Nana Owl" - an apt name that summarized her identity as a wise and nurturing guardian. Additionally, along with her work in the Lion's Club, she helped found one of Markham's local Air Cadet squadrons.
She brought people together; she was always willing to lend a hand, give advice, join in a laugh, and share a home cooked meal. Grace had boundless positive energy and could light up the room with her smile. She wholeheartedly lived the identity of being a helper, at home and around her community.
A celebration of Grace's life and contributions will be held on Friday August 2nd at Grace Anglican Church in Markham, with a visitation at 10am, service at 11am and a reception following.
In lieu of flowers, the family is asking that donations be made to the Lion's Club Dog Guide program at www.dogguides.com, or the dystonia medical research foundation at www.dystoniacanada.org
The family would like to extend a special thank you to the Nurses, Physicians and Staff working on the 1C Palliative Care unit at Markham Stouffville hospital.
Visitation
10:00 am - 11:00 am
Friday, August 2, 2019
Grace Anglican Church
19 Parkway Avenue
Markham, Ontario, Canada
Memorial Service
11:00 am
Friday, August 2, 2019
Grace Anglican Church
19 Parkway Avenue
Markham, Ontario, Canada
Reception
The Reception will take place in the Church Hall following the Memorial Service.
Share Your Memory of
Grace