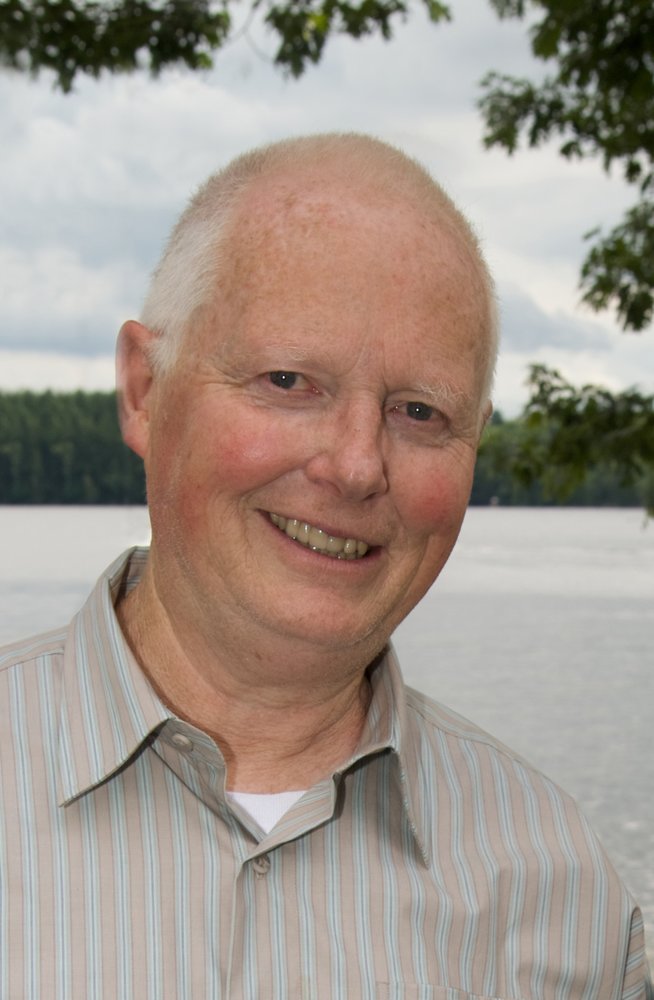 Obituary of Robert Douglas Brown
ROBERT DOUGLAS BROWN
January 6, 1942 – May 11, 2019
Passed away on Sat. May 11, 2019 in the Palliative Care Unit of Markham-Stouffville Hospital with family at his side. Doug was 77 years old.
Beloved husband of Ann for 48 years, loving father of Russell and Emily (Chris Arthur), proud grandfather of Ethan and Robyn Arthur, and cherished brother of Joan (Darrell Dennis). Doug will be fondly remembered by his cousin, Jan Gravelle, his nieces and nephews, and his many, many friends.
Doug was born in Toronto and grew up in the Beaches. He trained as a draftsman and worked in Toronto, in Deep River with Atomic Energy of Canada and then with Honeywell in Scarborough. In 1972 Doug enrolled in the Ontario College of Education and entered the teaching profession a year later with a specialist certificate in Technological Studies. Doug enjoyed a 27- year career teaching in York Region at Markham District High School and later at Aurora High School. He taught mechanical, electrical and architectural drafting, computer assisted drafting (CAD), automotive studies, and woodworking. During his career he also earned an Honours B.A. and gained further specialist qualifications to teach Visual Art and Co-operative Education.
Doug will likely be remembered most for his numerous skills and wide-ranging interests. He played the guitar and the piano even though he could not read sheet music. He played by ear, picking out the melody in his head and then adding the harmonies.
At a young age Doug demonstrated a natural talent for drawing. Throughout his life he explored many kinds of visual art – painting in acrylics and watercolour, etching, lithography, print making, pen and ink drawing, wire sculpture, wood carving, and even papermaking.
With his background in drafting and architectural design, it was a given that Doug would design and construct, over many years, the woodshop, the cottage and the barn in his beloved Muskoka. This work became a passion and a life-long project for Doug. Up until a month ago he was making plans for this summer's project – install a second bathroom in the cottage.
Doug was an enthusiastic sailor. He joined the Bala Sailing Club in1968 (?) with an old Y Flyer acquired from the fleet in Deep River, Ontario where he was working at the time. As the club grew and he gained more experience, he graduated to an Albacore and a Laser. Doug loved the competition of sailboat racing and the camaraderie of the after-race socials.
As a skilled mechanic, woodworker and vintage boat enthusiast, Doug restored a 1947 Greavette Disappearing Propeller Boat (unique to Muskoka) which he discovered in a barn near Sutton, Ontario. He was a charter member of the Dispro Owners Association and participated in countless tours and regattas.
Doug was also a proud and almost charter member of MAOC (Model A Owners of Canada). Over the years Doug restored a 1931 Model A Coupe, a 1927 Model T (his first, large scale retirement project) and a 1966 Mustang convertible.
Another of his activities was researching the Brown family history. Doug's maiden aunt in Wales had passed on boxes of letter and diaries when she died and Doug's interest was aroused. He eventually traced his family roots back to Alexander Brown who died in 1769 in Scotland. To verify his findings Doug travelled to Scotland in 2007 and spent two cold, soggy weeks visiting cemeteries and churches.
Doug's resourcefulness and ingenuity will always be a subject of conversation among his family and friends. His ability to repair or construct something from whatever basic materials were at hand was remarkable. For example, he retrieved two aluminum pontoons from the bush on Kahshe Lake and subsequently built the "William C" – an 24' pontoon boat complete with wood decking, navigation lights, bridge and canopy. For another project he built the "yard car" – an unlicensed vehicle put together from spare Model A parts which he used on the cottage property as a travelling workshop and tool shed. In 2009 Doug welded the arbour for his daughter's outdoor wedding from the iron support pillars of an old gazebo. One of his last projects was transforming old, cedar dock boards into a desktop and matching floating shelves.
Doug lived a rich, full, and busy life. He will be sorely missed, but his family and friends will cherish all the wonderful memories. In keeping with Doug's wishes, cremation has taken place. A gathering to celebrate Doug's life will be held at a later date. Special thanks to all the members of Doug's health care team at Markham-Stouffville Hospital for their outstanding care and support. Messages of condolence may be left at www.dixongarland.com.
Share Your Memory of
Robert