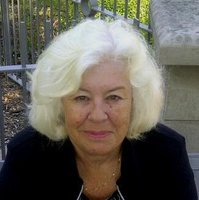 Jean Durand
Durand Jean Anne
Jean Anne Durand passed peacefully at home with her family at her side in Markham, Ontario on Monday, December 10, 2012 at the age of 65 after a courageous battle with pancreatic cancer. Beloved wife and best friend of Alan for 40 fun filled years. Loving mother and best friend to son Derek (Nicole) and daughter Allison (John) Green of Markham. The ultimate grannie, "Honey Bunny" to Annie and Ryan Green. Daughter of Charlie MacKinnon (d.1949), Dominion Nova Scotia and Helen (Zsolt) Molnar, Brantford, Ontario. Loving niece of Stasia Evasuk (d.2009) well known Toronto Star fashion writer. Born a coal miner's daughter and coal miner's grand daughter, Jeanne was raised in Glace Bay, Nova Scotia. A proud Cape Bretoner, her love of life and positive energy brought happiness to all who had the good fortune to know her.
Visitation will be held at the DIXON-GARLAND FUNERAL HOME, 166 Main Street North (Markham Road), Markham, Thursday, December 13, 2012 from 2-4 and 7-9 pm. A celebration of Jean's life will be held on
Friday starting at 11:00 am in the Chapel. In lieu of flowers, donations to Pancreatic Cancer Canada or
charity of your choice would be appreciated.
Jeanne Our Essence of Love
Born on an island on the edge of a dark, cold sea
Raised with love but alone you'd be
A child of hardship but never of pity
A dark haired beauty of wisdom and depth
Through the twists of life you cared for the many you touched
A constant beacon for all things good and kind in our lives
Strong in spirit, determined in actions
Ever an angel with a devilish laugh, you only saw good
Family came first, your love unconditional
We remember forever your smile, your love and the fun
Jeanne please give us your strength to be what you were
Your Loving Family
Alan, Derek and Allison