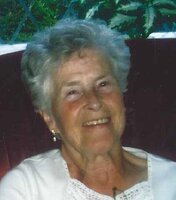 Marjorie Mary McBeth
Born in Co. Durham, England December 15th, 1927. Beloved wife of the late Russell McBeth.

Survived by her children Moira Cadieux, Jeff Mike McBeth (Jan), and Jean Arseneau. Grandchildren Mark, Jeffrey, Paul, Jonathan, Stephen, Krista, and Amanda. Great-grandchildren Addisyn, Colton, Skyela, Maya, and the late Dakota.
Family and friends will be recieved at St. Patrick's Parish on Thursday November 3 at 10:30am.
In lieu of flowers, donations to a children's charity of your choice would be appreciated.
May God hold you in the palm of his hands