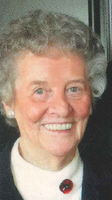 Margaret Wilson Read
Margaret Read
September 8 th 1927 – October 5 th 2022
A Flower of Scotland passed away peacefully at the age of 95, with family at her
side, at Extendicare Port Hope. She joins her beloved husband of 70 years, Tom,
dear son Robert, daughter-in-law Pamela, parents Sam and Janet Andrews and
her brother Joseph. She will be cherished greatly by her daughter Jennifer Lynne
Willis (David), grandchildren Robyn Read (Owen Percy), David Read, Heather
Willis (Karol Rogers), Cameron Willis (Rachel) and remembered by her great
grandchildren Emmett and Alice Percy. She has always been a wonderful
daughter, wife, mother, aunt, grandmother and friend with a generous heart and
loving spirit. We will miss her so much. Heartfelt appreciation goes to all those
who cared for her so tenderly at her Extendicare home over the past four years.
In lieu of flowers, a donation to the Red Cross, Wildlife Association or Charity of
your choice would be greatly appreciated.
Friends and family will be received at the Dixon-Garland Funeral Home on Wednesday, December 21st, 2022 at 10am. The Memorial Service will be in the chapel at 11am with a reception to follow.