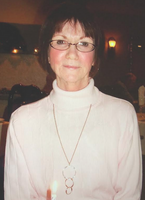 Denise Mckay Leadbetter
Denise McKay Leadbetter 1947-2022
Denise passed away peacefully at home, with her loving husband Tom by her side, on September 10, 2022.
Denise was born in Dresden, Ontario and was the cherished only child of the late John & Irene McKay.
Denise was Muriel Leadbetter's adored daughter-in-law and beloved sister-in-law of (the late) John & Joan Leadbetter, Mark & Roseanne Leadbetter and Paul Leadbetter. Dear aunt to Antwon, Richard & Mary-Lynn, Lisa & Dave, Amy & Grant and a treasured great aunt too many nieces and nephews.
Denise and Tom were blessed with 31 years of marriage; they were best friends and shared a deep love for each other; she and Tom loved to travel and especially enjoyed their trips to Las Vegas and many incredible concerts. In her time of need, Tom provided Denise with remarkable comfort, love, strength, and care, never ceasing in his commitment to her.
After graduating with a Bachelor of Arts from Western University, Denise attended London Teachers College for one year and acquired her Bachelor of Education. In 1969, Denise began her professional life as a kindergarten teacher in Middlesex County. In the early 70's Denise moved to The Beaches and continued career with the Toronto District School Board retiring her career as a special education teacher at Kimberly Public School; Denise was respected and revered by many students and colleagues. She thoroughly enjoyed the challenge, interaction, and pleasure in seeing a student improve their skills and increase their knowledge through the art of teaching.
After her retirement in 2001, Denise volunteered at the Markham Seniors Centre, engaging in yoga and convener of a country line dancing class; through this experience, she gained many dear friends who will miss her beautiful smile and energy.
Recognizing her love for yoga, we are reminded of the quote, "Your life is a sacred journey. It is about change, growth, discovery, movement, transformation, continuously expanding your vision of what is possible, stretching your soul, learning to see clearly and deeply, listening to your intuition, taking courageous challenges at every step along the way." — Caroline Adams.
A private family service will honour Denise and her beautiful life. As expressions of sympathy, donations may be made to the Canadian Cancer Society.