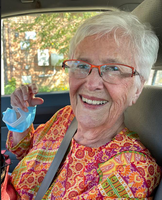 Janet Britta Madsen
Janet was the daughter of Betty and John Madsen, two immigrants from Denmark who met and married here in Canada. She grew up at Cherry Hill Farm in Unionville, the site today of Markville Mall.
Janet was the oldest of her siblings – Karen Madsen Pascal and Anne-Lis Madsen Morris. She was friend and sister-in-law to Bob Morris and the very proud aunt to Jesse and Muriel Pascal and Blaise and Matt Chapman. For Jacob, Zachary, Brycen, Dakota and Indiana she was their lovable Auntie Janet who they knew they could count on to pray for them no matter the need.
Janet attended Franklin Public School in Markham, Markham District High School, and Branksome Hall. The latter was the place she thrived and found lifelong friendships. She studied painting at the Banff School of Fine Arts and in San Miguel, Mexico at the Instituto de Allende. Janet's paintings were lavish with energy and color – a true Jackson Pollock protégé.
For the past 17 years Janet has been living at Elmwood Gardens in Stouffville and she has attended Bloomington Gospel Church. These were places where she forged meaningful friendships.
She was a precious sister and much-loved aunt whose faith permeated every aspect of her daily life. Janet lived boldly and loved well. She was absolutely one-of-a-kind and we will dearly miss our Janet.