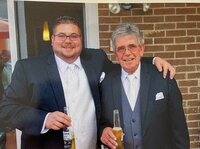 Anthony Charles "Tony" Hubbard

Tony was born March 4th, 1943, in London, England. He realized a dream of his when he came to Canada with his wife Luci in 1978, and in 1982 he moved to Markham and enjoyed much success.
Tony met his wife Luci at her 30th birthday party. He came as the guest of a friend who told Luci that she was going to love him. They were engaged 6 weeks later and were married for 46 years. Together, they made a home and life in Canada; raising two children, nurturing friendships, traveling the world and living well, fighting and making up along the way. Tony's life in Canada was full, including many good parties with good friends who became like family. All the while, Tony took pleasure in keeping in touch with his old friends in England.
Tony was a funny man who was quick to make and enjoy a good joke (especially dirty ones.) Since his passing, many of his friends and family have shared their memories of Tony, particularly about his excellent sense of humor and his fun character. Childhood friends of his children have reflected fondly on the Hubbard house, and on Tony in particular.
Like his son, Ben, he loved sports, particularly soccer. Intent on becoming a "real" Canadian, he learned about hockey and became an avid fan, and even took skating lessons. Ben and Tony enjoyed long conversations about professional sports and politics (Sara-Marni leaves the room when they'd discuss the latter.) Tony was a committed hockey dad, driving Ben to games, giving sometimes unsolicited feedback on performance, managing teams, and bragging about Ben's games for years to come.
Tony and his daughter, Sara-Marni, enjoyed a good book. The two liked discussing what they were reading, though they often disagreed on what was a good book. Sara-Marni often bought Tony books for holiday gifts, particularly science fiction and sports biographies. Over the years, many have noted that Tony and Sara-Marni are very alike in character and temperament, which Sara-Marni used to take as an insult but no longer does.
Tony was passionate and a man of his own volution. He made his own path when he came to Canada and enjoyed much career success as a business executive in several companies. He provided for his family and was extremely proud of his children and their success.
Even at his most unwell and in hospital, he never lost his sense of humor. He was making jokes and enjoying his family until the end. In his final week, he was visited by his dog, two of his best friends, his children, and his wife. He received touching and countless messages from old and new friends, many who reflected on his sense of humor and how much they enjoyed his friendship. He spent his last day with his daughter and wife, they joked and breathed fresh air in the courtyard of the hospital in the town that he chose to make his home, raise his family, and live his life. While his death came much too soon, his final days were full of love and family.
We will miss our unconventional dad, husband, and friend. And we are grateful for a lifetime of memories of Tony, who brought so much into our lives and encouraged us to chart our own paths, ask meaningful questions, and to define for ourselves what a well lived life can look like.
In lieu of flowers, the family ask that friends donate in Tony's name to Markham Stouffville Hospital.

-

The family kindly asks all attendees wear a mask while within the funeral home. Masks will be provided upon entrance.