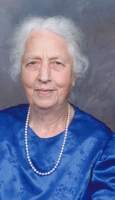 Mary Frances Drudge

Mary Frances Drudge passed away peacefully at Markham Stouffville Hospital on Saturday, March 26, 2022 at age 89. Beloved daughter of the late Levi and Annie Drudge. Predeceased by her brother Carl. She will be missed by her many relatives and friends.

Mary Frances began a career in nursing at Scarborough General Hospital. After the death of her parents, she and Carl looked after the family farm in Markham township and later built a house and moved into the town of Markham. She enjoyed quilting, gardening, travelling worldwide and keeping in touch with her church, extended family and friendship circles.

Interment at Reesor Cemetery on Friday, April 1 at 12 noon. Visitation from 12:30 p.m. with service to follow at 1:30 p.m. at Rouge Valley Mennonite Church, 7452 Reesor Rd., Markham. Please note that wearing a mask is required at Church. In lieu of flowers, donations can be made to a charity of your choice.