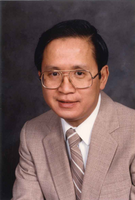 Wayne Auyeung
Our beloved Dr. Wayne Auyeung passed away on Sunday January 23rd in the early afternoon after a long courageous battle with Parkinson's disease. Wayne leaves behind his loving wife of 52 years Monica and his children Julius (Jenn), Clara (Ross) and David (Gail) and grandchildren Kiera, Erika, Nigel, Peter, Katie, Kaylyn, Elyssa and Emily.
Wayne was a long time resident of Markham after emigrating from Macau in 1959. He attended University of Toronto where he graduated from medical school. He moved to Markham and joined a family practice on Markham Main street in 1969 where he worked in the community through his retirement in 2006. Wayne contributed to the Markham community through his dedication as resident physician for Union Villa Long-Term Care and Participation House.
Wayne had a large community of friends that enjoyed Mahjong parties and dance groups for many years. He had a passion for travel and enjoyed many trips in his youth and later with his family. His laughter and joy of life will be missed by all.
The family would like to express their sincere gratitude to all the staff at Chartwell Woodhaven Long Term Care Residence who made Wayne's last few years comfortable. They would also like to thank the doctors and nurses at the Markham Stouffville Hospital for their kindness during his last days.
In lieu of flowers, we ask that donations be made to the Markham Stouffville Hospital Foundation in Wayne's memory.
Visitation will occur on Friday, January 28th at Dixon-Garland Funeral Home (166 Main Street North, Markham, ON, L3P 1Y3) from 4-4:45pm and 5-5:45pm. Reservations can be made by selecting a time below:

1. Reserve your attendance for Visitation 1 (4:00-4:45pm)

2. Reserve your attendance for Visitation 2 (5:00-5:45pm)
Dr. Auyeung's Funeral will occur on Sunday, January 30th at 1pm in the funeral home chapel. Reservations can be made by clicking here. Burial will follow on Monday, January 31st at Elmwood Cemetery.

-

Funeral Livestream

You can access the webcast by clicking the link below and following the prompt to enter your email address. You will immediately be sent a link in your email inbox (please check spam/trash folders if the link is not in your inbox). The link expires quickly, so please sign up to access it on the day of the service and keep the pre-ceremony page open until the stream begins. The service will be viewable after the webcast, as well. The webcast is set to start at 12:55 pm.