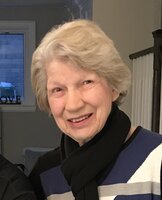 Gloria Maria Norma Carol Taylor (nee Paterson)
Gloria passed away on January 17, 2022 after a long battle with cancer. She was 85 years old. Wife of the late Michael Taylor, Mother of Susan Taylor (Harry Wttewaall), and Grandmother of Jacob and Joshua.
Born in Montreal, Gloria spent her early years as part of a close-knit French Italian family. Her parents moved to Ottawa in the 1930s where Gloria remained until she graduated. During her childhood, she took her studies seriously but equally enjoyed playing piano and figure skating. She graduated in 1955 from the University of Ottawa with a Bachelor's and Master's degree.
Although she didn't think of herself as one, she was somewhat of a pioneer, being a full-time career woman in the mid-50s, even after marrying Mike in 1959. She worked as a Psychologist at hospitals in Quebec and Ontario. She was highly regarded in her profession. At an unusually young age, she was Chief Psychologist at the Ontario Lakeshore Hospital. In the late 60's she took a position as a School Psychologist with the North York Board of Education where she often supervised new practitioners. As well, she was a consultant to a children's mental health agency in York Region. She remained active in her profession until she retired in 2000.
Gloria loved to travel and cruise, both with her husband and then later with friends. She enjoyed both big ship and river boat cruises and appreciated live theatre, symphony concerts and art exhibits. She was an avid bridge player and played with numerous groups in her community of Don Mills and lots of rummy with her grandsons.
It was a priority for Gloria to leave the world a better place, and she was a generous donor to many charities here and around the world. Gloria was exceptionally smart, polished, stylish, and kind. She will be greatly missed.
A Celebration of Life will be held at Graydon Hall Manor, 185 Graydon Hall Drive, on May 18, 2022. In lieu of flowers, memorial donations can be made to Easter Seals Ontario, an organization that has had an exceptionally positive influence on the life of her eldest Grandson.