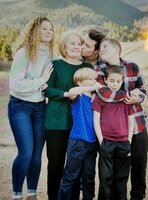 Joan Piasentin
On Saturday January 8, 2022 at 525pm eastern Joan Piasentin Stecyk passed peacefully and in the hands and hugs of her loved ones.
Joan was born on August 11, 1944 in a world war II refuge camp in Africa to Michael and Angela Stecyk, Polish and Ukranian refugees. Her birth name was Jadwiga Maria Stecyk but was know universally as Joan, Joanie and nonnie to her grandchildren. She received her Librarian degree from Seneca college and pursued her love of reading as a librarian for more than 20 years. Joan raised two sons, Richard and Shawn and is survived by 5 beautiful grandchildren who all loved and admired their Nonnie. She was the definition of family Matriarch.
Joan had a passion for reading and traveling. Her adventures as the wife of canadian military officer took her all over the world but settled her in the Markham area in 1979. There she raised her boys and settled into her passions for friends and literature. She was known for her quick dry wit, love of laughter, loving compassionate nature, and a fierce, indomitable spirit.
Joan was preceded in death by her father Michael and mother Angela. She is survived by her sons and their children Aidan, Isabella, Mason, Marcus and Gavin and her nephews and nieces spread across the Canadian West. A private funeral service will be held on Friday, January 14th at 1pm at the Chapel at Dixon Garland Funeral Home at 166 Main St. N, Markham ON.

-

Funeral Livestream
You can access the webcast by clicking the link below and following the prompt to enter your email address. You will immediately be sent a link in your email inbox (please check spam/trash folders if the link is not in your inbox). The link expires quickly, so please sign up to access it on the day of the service and keep the pre-ceremony page open until the stream begins. The service will be viewable after the webcast, as well. The webcast is set to start at 12:55pm.
https://event.forgetmenotceremonies.com/ceremony?c=2a75b2fa-69ab-4d73-b0e5-36df80957a99