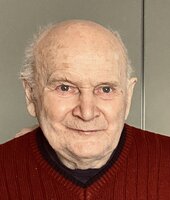 Joseph Warth
March 19, 1932 - November 1, 2021

Joseph passed away peacefully on Monday, November 1st at the age of 89. He is predeceased by his dear wife, Irmgard and parents, John and Elizabeth. Beloved and cherished father of Linda (Bill) and Sandra (Walter). Extremely proud and adored Opa of Lauren and Jamie. He is survived by his brother, Steve.

Joseph immigrated to Canada with his parents and brother as a young adult from Croatia. He started work as a house painter. After marrying Irmgard and the birth of his daughters, he went to night school to obtain a diploma as an Electronics technician. He quite enjoyed his career. Upon his retirement, he was able to spend much time with his granddaughters Lauren and Jamie as they grew from babies to young women. He was ever a regular at their various sporting games and other endeavors as he was with his daughters.

Joseph greatly appreciated his family, friends, neighbors and pets. He was a kind and quiet man who had a wonderful sense of humour. He made friends with everyone he would meet with his smile and love of fun. He relished gardening, fixing pretty well anything and ever learning about topics that interested him. At an early age, he became an avid collector of stamps and coins. Irmgard and Joseph spent their retirement years well by traveling and enjoying time with friends. Joseph was always up for a game of cards and a chat.

He was fortunate to have such good health all his life until Alzheimer's came and took him away from us. He was still able to show his love and friendship until his final day.

We want to thank the staff at Parkview Home where Joseph lived the last two years of his life. Not only did the staff provide exceptional care, they brought such a sense of compassion and fun that Joseph really did have a wonderful time while there.

There will be a Celebration of Joseph's Life held at Angus Glen Golf Course - 10080 Kennedy Road, Markham on Sunday, November 21st starting at 1 p.m.. A reception will take place in the Mackenzie Hall. Due to COVID-19 restrictions, proof of Full Vaccination will be required at screening upon entry as well as face coverings.
For Directions to Angus Glen Golf Course - Please click here & enter your starting location.

If desired, donations may be made to Parkview Home-Long Term Care and the Alzheimer's Society.