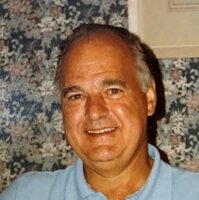 Robert George Stokes


It is with great sadness that the family of Robert (Bob) Stokes announce his passing, peacefully at home with love ones at his side in his 86th year after a short and courageous battle with cancer.
He will be greatly missed by Mary, his beloved wife of 58 years; his 2 sons, Peter (Meg) and Greg (Terri-Jean) along with his 4 wonderful granddaughters, Jenna, Kate, Natalie and Kelly.
Even on the bad days, granddaughters have a special magic and could bring out a smile or a laugh from Gramps. In the end, they were the best medicine.
Born in Scotstown Quebec in 1936 to Thomas Stokes and Elizabeth (nee Scott). He moved to Montreal in 1955 where he met Mary and where they started raising their family, later moving to Markham where he remained to this day.
Bob spent his working life with CIL (now ICI) both as an employee, and later as a contractor. A loyal employee for nearly 50 years. Friendships from those early days still live on. His more recent 'jobs' included a more close to home effort, often found in the garage workshop, mixing a bit of woodworking in with a lot of conversation.
His number 1 job was taking care of his family. #1 was Mary, and one of his biggest regrets was not being here to take care of her.
His passions through life included a love of golf, both playing and watching. He had a love of hockey, both as player and fan.
He will be missed by all.
In lieu of flowers, donation to the Canadian Cancer Society or the charity of your choice would be appreciated.
Condolences can be left on Bob's Tribute Wall.
Visitation will be held at Dixon-garland Funeral Home on Wednesday, October 20th from 4-8pm, and a private family service will be held Thursday October 21 at 11am. See below for livestream instructions.

- - -
Funeral Livestream

You can access the recorded service by clicking here and following the prompt to enter your email address. You will immediately be sent a direct link in your email inbox (please check spam/trash folders if the link is not in your inbox).