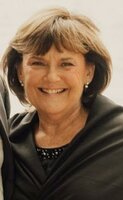 Joan Ruth Rainbow-McCullough

With incredible sadness, we announce the passing of Joan Rainbow-McCullough (Burrows), aged 62, at the Markham Stouffville Hospital while surrounded by family. She passed away Monday, October 4, 2021 after a difficult battle with cancer. She was born in Markham to the late Nancy and John Burrows, on August 19, 1959. Loved by the late Keith Rainbow, and her adoring husband, Kirk McCullough. She will be dearly missed by her 5 children: Amy Ahn (Soonhyung), Tracy Campbell (Colin), Brett Rainbow (Meredith), Kerry Manduca (Chris) and Kevin Rainbow (Sam). As the beloved Nana to Ryan, Claire, Quinn, Landon, Bryson, Liesel and Oliver, she will always be treasured.

She will also be missed by her brother Doug Burrows (Janet), brothers-in-law; Jim Rainbow (Caroline), Paul Rainbow (Ros) and Earle McCullough (June), her sister-in-law Dawn McCullough (Mark) as well as her many nieces, nephews and cousins.

An accomplished baker, talented gardener, keen traveler and hardworking matriarch of the family, she will be forever cherished and missed.

A visitation will be held on Friday, October 8th from 11am-12pm (public); and 12-1:30pm (by invite) at the Dixon Garland Funeral Home in Markham, with the funeral service following at 1:30pm (by invite). In lieu of flowers, the family asks you make a donation to the Canadian Cancer Society.