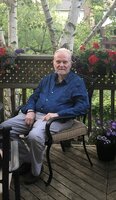 Ronald John Nilsen


It is with great sadness that we announce the passing of Ron on Thursday, August 19, 2021 at the age of 81. Predeceased by his wife Charlotte. Beloved father of Julie, Carolyn (Felipe) and Kristin (Brad). Proud grandfather of Daniel and James; Nina, Cara and Felicity; Brandon, Sarah, Rachel and Katelyn. Loving brother of Beverly Wakefield.

Ron was born in the mining town of Larder Lake, Ontario, to Ida and Jack Nilsen. As a young man, he worked in the mines, later moving to Toronto where he met and married Charlotte. Our dad loved nature, spending many years caring for his roses, gardening and capturing the beauty of nature on film. He loved music, movies, history, and could always be counted on for a 'lively' discussion about politics. He was an avid sports fan, never giving up hope for the Tennessee Volunteers, St. Louis Cardinals, and the New York Rangers.

His intelligence was surpassed only by his great sense of humour. Our dad was loved very much and will be dearly missed.

In lieu of flowers, donations may be made to the Markham Stouffville Hospital Foundation.