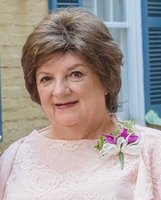 Gwenyth Grace Paterson

We are saddened to announce the passing of Gwenyth Grace Paterson (nee Carstens) on August 11, 2021, at the age of 80. Loving wife of the late Bruce Paterson. Beloved Mother of John (Linda), Bruce (Karen), Darren (Sherry), and Shannon (Brad). Beloved grandmother to Briana, Cameron, Zachery, Mikaela, Olivia, Connor, Grady, Kassandra, and Audrey. Predeceased by Richard and Barbara Carstens.

Gwen loved knitting, sewing, reading, darts, hockey, EPL soccer, bingo, and anything to do with German Shepherds. She was a devoted mother who adored her children and grandchildren, and she will be greatly missed.

Family and friends will be received at DIXON-GARLAND FUNERAL HOME, 166 Main St. Markham North, on Tuesday, August 17th from 2-4 p.m. and 7-9 p.m.

A private service will be held on Wednesday, August 18th at 11am.

All are welcome to join us at the Duchess of Markham at 1pm on Wednesday after the funeral to have a toast in Gwenyth's honour. In lieu of flowers, donations may be made to the Canadian Cancer Society.

Please click here link to view the livestreamed Funeral Service for Gwen Paterson.