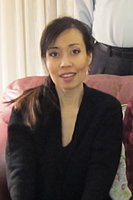 Bella Rumi Davis (nee Shitami)
Bella Davis (nee Shitami)
April 4, 1971 - June 4, 2021
Bella was a loving mother, daughter, sister, partner, friend, family member, and most greatly -- a caregiver to many, as she was passionate about her home daycare business. After a courageous 18 month battle with cancer, Bella passed away at Markham-Stouffville Hospital on Friday June 4, 2021.
Bella was born on April 4, 1971 in Toronto, Canada and resided in the GTA her entire life. She enjoyed road trips in her beloved Jeep and travelled well during her life. She loved the arts, photography, 80's music, baking, and being outdoors in the peaceful wilderness. Her happy place was with her camera and digital computer equipment. Bella was passionate about her hobbies and turned many of them into business endeavours. Bella would like to be remembered as a positive role model, who was strong, independent, brave and selfless.
Bella is survived by her beloved 14-year-old son, Kenji, her parents, George and Yoshie Shitami and her younger sister, Kaye.
The Shitami family would like to give a big thank you to the doctors, nurses, and staff working tirelessly in the Oncology ward at Sunnybrook Hospital and Markham-Stouffville Hospital. They would also like to thank Bella's partner, Andrew, who selflessly cared for Bella in her time of need. George and Yoshie sincerely appreciate Andrew for all he has done for their daughter.
A private family visitation for Bella will be held at Dixon-Garland Funeral Home on Tuesday June 8, 2021 between 1:00-2:00pm. In lieu of flowers, the Shitami family requests that donations be made to Sunnybrook Hospital Cancer Research Centre.
The Shitami family would like to sincerely apologize to those family members who could not attend the visitation due to the Covid-19 restrictions.