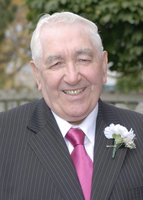 Samuel McAnally
SAMUEL MCANALLY
November 8, 1932 – May 23, 2021
Born on November 8, 1932, in Belfast, Northern Ireland, Samuel was the fifth of six children born to William and Margaret McAnally. At the age of twelve, Sam accepted Jesus Christ as his Saviour at a Coal Men's Mission meeting in Belfast.
Sam began working for his father, driving a horse and cart, at the age of fourteen. Not long afterward, he met Maud Elizabeth Thompson, and the two were married at the age of nineteen.
In the years to follow, Sam and Maud were blessed with their two children, David and Margaret. Sam was a loving father and husband who worked hard to provide for his family. He worked in the family cartage business before he and his brother Willie started a business delivering coal.
Sam developed a love for horses at an early age and became an accomplished horseman. He was a founding member of the Northern Ireland Driving Club, alongside his brother Willie.
In November 1988, Sam and Maud moved from Northern Ireland to join their children and their families in Ontario, Canada. Here Sam worked at a warehouse in Brampton, Ontario. Later, he served as the custodian at Toronto Free Presbyterian Church and its private school, Whitefield Christian Academy until he retired.
Sam's love for the Lord Jesus Christ was evident to all who knew him. He enjoyed being at church with the family of God and was a faithful member at Toronto Free Presbyterian Church for many years. Sam could always be found at the weekly prayer meeting, and dearly loved to sing hymns in worship to the Lord.
Sam had a great sense of humour and greeted everyone he met with a smile on his face. He was an encourager, and he spread the joy of the Lord to all those around him. He loved nothing more than to be with his family, and he was always content if he had a family member by his side.
Sam will be dearly missed by his brother, Willie McAnally, and his children David and Margaret, his grandchildren Kerry, Jonathan, Courtney, Sarah, Samantha, Robert and Rebekah, and his great grandchildren Aaron, Samuel, Hailey, Callum, Alana, Liam, and Penelope. Likewise, he will be missed by countless other extended family and friends who knew and loved him.
Our hope and comfort is that our Granda is now in the presence of his Saviour, Jesus Christ, and that all who know Him will see Granda again.
"For whether we live, we live unto the Lord; and whether we die, we die unto the Lord:
whether we live therefore, or die, we are the Lord's."
Romans 14:8
In lieu of flowers, the family kindly asks for any donations to be sent to Whitefield Christian Schools.