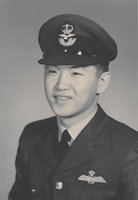 William Shimbashi
It is with heavy hearts that we announce William "Bill" Shimbashi passed away peacefully on May 6, 2021 at the age of 85.
Bill leaves behind and will be deeply missed by his beloved wife of 62 years, Micheline, and his children Brad (Nadia) and Danica (Mike). Lovingly known as Papasan by his grandchildren, Misha, Teilen and Aidan. Brother to May, Kathleen and Patrick.
He was predeceased by his daughter Lisa; his parents Zenkichi and Teru; his brothers Edward, Albert, George, Henry and Yeikichin and his sister Helen.
Bill proudly served in the Royal Canadian Air Force, where he was affectionately known as Shimbo, and served as a fighter jet navigator (CF100 and CF101) from 1956 to 1964. He was a member of the 425 AW squadron call "The Alouettes."
Everyone who crossed paths with Bill throughout his life felt his warmth, and his kind hearted nature. He uplifted those around him, and will always be remembered for his humour, quick wit, and contagious laugh. Bill was incredibly proud of his family, and loved them fiercely. Bill's family will forever miss feeling his presence - hearing him play the piano or his guitar or humming a song - which always made the house feel like home.
Bill loved being a grandfather and took every opportunity to cheer on and support his grandchildren. They fondly remember him as their biggest cheerleader and remember seeing Bill in the rink or the side of the lacrosse field taking pictures and making friends with other the families in the stands. They will always cherish the time they spent with him.
Bill was a true gentleman, whose life is a testament to hard work, dedication, service and unconditional love.
Due to the pandemic, a celebration of life will be held at a later date when family and friends can gather safely.
In lieu of flowers, a donation can be made to CHATS - Community & Home Assistance to Seniors in memory of Bill. We are grateful for their support and assistance over the last few years.