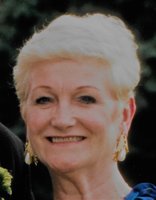 Annie Simpson Docherty
Annie "Nan" Simpson Docherty (McLeod) passed away in the early hours of Easter Monday, April 5, 2021, in her 82nd year. Beloved wife to Jack, mother to David, Billy and Sean, Mother-in-Law to Kathryn. Gran to Kellie, Debbie, William, Jennifer, Jacob, Jessica and Matthew. Great Gran to Holly, Lewis, Evie and Ryan. Cherished Aunt to John, Lesley, Paul, Siobhan, Martin and Karen. Sister to Duncan.
Annie was born in Glasgow, Scotland, on May 18, 1938, the second oldest daughter of Sadie and Jacob McLeod. She was known to her family as a force of nature, beautiful, graceful, stylish, always lighting up the room. It was her immense love for her grandchildren and great grandchildren that fueled her heart for so long.
On March 19, 2021, Annie and Jack had just celebrated their 50th anniversary together. They both wished that day that they could 'start this journey all over again', a beautiful testament to their undying love for each other.
She will be immensely missed by all who knew her, and has left a legacy that will live on forever. May she rest in forever peace; our love will last until the end of time.

Livestream

Since many cannot attend due to gathering restrictions, the funeral service will be streamed live on Saturday, April 10th at 11am.

You can access the private livestream by clicking here and following the prompt to enter your email address. You will immediately be sent a link in your email inbox (please check spam/trash folders if the link is not in your inbox). The link expires quickly, so please sign up to access it on the day of the service and keep the pre-ceremony page open until the stream begins. The service will be viewable after the livestream, as well