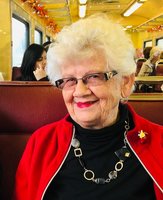 Zoë Isabel Heal
HEAL, Zoë Isabel (1934-2021)
With profound sadness we announce the passing of Zoë Heal, a loving and devoted friend to all whose lives she touched, on April 4, 2021. She left us while sleeping peacefully at Margaret Behan Hospice in Newmarket, Ontario. She was in her 88th year.
Born in Halifax, Nova Scotia, during the Depression, she witnessed incredible changes to her world. Her father, Edward Pritchard, died when she was 10 and she was raised by her mother, Isabel. Zoë's future husband, John Heal, predeceased her and despite her challenges, Zoë "kept calm and carried on."
Zoë was a well-respected teacher at Earl Haig Secondary School where she brought history to life for her many students. After retiring from teaching, she and her husband bought an apple orchard near Collingwood where Zoë learned how to drive a tractor, a snowmobile, and climb ladders to pick the fruits of their labours. After the sale of the orchard, they moved to Fonthill where they became active members of the community until John's death. Zoë then chose to move to Markham to be with her family.
Zoë passions included being a long-time member of JASNA (Jane Austen Society of North America), Viennese music, travelling around the world, knitting, reading, and enjoying nature. She was best friends with Pat Reynolds (Toronto) and Marg Ann Marwick (London, England) whom she met while attending University of Toronto. For over 65 years, the trio has managed to visit once a year, either in Canada or England. Zoë is the loving aunt of many nieces and nephews and is the cherished stepmother of Bonnie Irwin (Stouffville) and stepgrandson, Darryl Irwin.
She will be dearly missed and forever in our hearts. Cremation has already taken place.
A celebration of Zoë's life will be held via a Zoom Memorial on Sunday May 30 at 1pm. Links will be sent personally.
Donations to the Margaret Behan Hospice, Newmarket or Evergreen Hospice in Markham are welcome. Online condolences may be expressed through www.dixongarland.com.