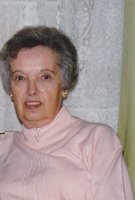 Marjorie May Stapley
Marjorie May Stapley (nee Weekes), in her 99th year, passed away peacefully at home with family by her side, on Tuesday, March 30th, 2021.
Marjorie was born in Montreal, P.Q., on August 11th, 1922, the youngest daughter of Lucy and Harry Weekes. Predeceased by her husband of 60 years, Frederick Charles Stapley; and survived by her only daughter, Donna.
A strong and independent lady who was both teacher and sage. Her depth of devotion to family was inspirational. Throughout her lifetime, Marjorie was a nurturer and caregiver, always placing others before herself, and willing to offer comfort to those in need. Her life force will be profoundly missed.
"Come unto me, all ye that labour and are heavy laden and I will give you rest. Take my yoke upon you, and learn of me; for I am meek and lowly at heart: and ye shall find rest unto your souls. For my yoke is easy, and my burden is light." Matthew 11: 28-30.
There may be a Memorial Service held at a later date. Anyone who wishes to make a memorial donation may do so to the Dorothy Ley Hospice, or the Lions Foundation of Canada Dog Guides.