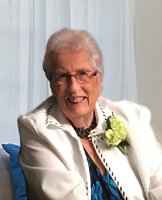 Gerdina Wendelina Cappon
Gerdina Wendelina Cappon, born Weeber
Nov. 8, 1931 – March 22, 2021
Our beloved wife, mother and grandmother, Gerdina (Gerdi) Cappon passed away and went to be with her Lord in her 90th year. She was born in Apeldoorn, The Netherlands and died in Newmarket, Ontario, Canada. Predeceased by her parents, brother Peter Weeber and sister-in-law Anna Stech (Cappon), she is survived by her husband of 63 years, Jacob Cappon. Gerdi was the proud mother of Lynn (Kelly Parke) Cappon, Bette-Ann (Tom) Bruulsema, Dan (Terry Karns) Cappon, Robert Cappon and Timothy Cappon.
She was blessed with seven grandchildren: Matthew Ferkranus, Kristen (Andrew Barrington) Ferkranus, Colin Bruulsema, Laura Bruulsema, Timon Bruulsema, Noah Cappon and Lucas Cappon. She is also survived by her siblings, Bert (Hennie Meyers) Weeber, Rennie (Ed) Schranz, Katie (George) Baarda, sister-in-law Anneke van Vliet, brother-in-law John (and Helen) Cappon, and many nieces and nephews. She was also mother to many foster children to whom she offered care and hope.
Gerdi contributed to society in many and significant ways, beginning as a nurse, settling and housing refugees, working with differently abled people, incarcerated persons, facilitating community care and creating and teaching beautiful art.
Interment will be with family on April 7 at the Aurora Cemetery. Memorial and visitation will be at a later date. Memorial contributions can be made to Christian Horizons or the charity of your choice.