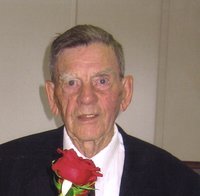 George Edward McCowan
Passed away peacefully at the Markham Stouffville Hospital on February 9, 2021 in his 99th year. Loving husband to the late Dorothy Margaret McCowan (née Sinclair), son of James Edward McCowan and Isabel Anderson Spark, and brother to Jim McCowan and Marion Kurita.
Blessed friend to Mary Borda and Cesar Narro and "Grandpa George" to Shelley and Bryan (the "head of the household"). George is remembered by his many nieces and nephews.
George grew up in the 1930s and from very humble beginnings learned generosity from his parents and felt a duty to give back based on the blessings he received throughout life. Following a harvesting accident in 1947 he recognized the importance of access to medical treatment and supported the Markham-Stouffville Hospital even before it was built. George attended St. Andrew's Presbyterian Church, Markham where he participated in Bible study class and enjoyed the odd game of euchre.
George made a positive difference in the lives of many and treated life like the blessing it is. Through his giving he received enjoyment and reminded his many friends how, "It's a great life if you don't weaken."
Funeral service to take place on Saturday, February 13, 2021 at 10:00am at Dixon-Garland Funeral Home in Markham with attendance restricted due to COVID-19 measures. In lieu of flowers, donations may be made to the Markham-Stouffville Hospital or to a charity of your choice.

To access the livestream at 10am on Saturday, February 13th, please click here and input your email address to register. You will immediately be sent a private link in your email inbox. The private link does quickly expire, so please set up your access close to the service time.