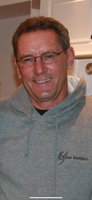 William Milos
February 16, 1946 - February 3, 2021
You can shed tears that he is gone,
Or you can smile because he lived.
You can close your eyes and pray that he'll come back,
Or you can open your eyes and see all he's left.
Your heart can be empty because you cannot see him,
Or you can be full of the love you've shared.
-D.Harkins-
If you are beginning to read this page it's because you already know
how great a man my father was. At some point in your life you have
shared a moment, a memory, or an experience that you reflect fondly
on and can recall a caring, kind, generous friend. The loss of my dad
has not only left an emptiness with our immediate family but has
impacted a community and left a void in many of your hearts too. In
providing condolences to our family, many have stated how he was
such a "wonderful man", and how he was "one of the good ones". I
might be slightly biased; but I agree!
As many of you know, my dad was not a man of many words, but he
loved his family. One of three sons to Alex and Vivian Milos(z), and
a proud brother to John (Patricia), and Don (Diane). He was a devoted
husband to Rhonda, a loving father to Marcus (Lynette) and Leana
(Dane), and an exceptional grandfather to Damon, Kyla, Ava, and Jett.
There never was a time we doubted his love for us or a time we didn't
feel his support. He never missed an opportunity to play games with
his grandchildren or spend time talking with them. Before he passed,
he shared with me how he wished he had more time to see them
grow; he was so proud of them and their accomplishments!!
His work ethic was unparallel to anyone. His commitment to his
employers and his workmates formed some of his lifelong
friendships. Whether he was building your pools, plowing your snow,
testing your water, or fixing your watermain break, there never was a
job too big, or a task too small. He was reliable, dependable, and
trustworthy – unless he was playing golf…but that's a story for
another day!!
My family and I cannot express how much your words of
encouragement and support mean to us at this time. To know that his
passing impacts so many others is a true testament to the person he
was, and the legacy he is leaving behind.
In lieu of flowers, we would like to ask that donations be made to the
Regional Cancer Program of Southlake at www.give.southlake.ca as
they provided wonderful care and support to my dad and my family
during this time.
Gone too soon
Forever in our hearts
Until we meet again
xoxo
-L-