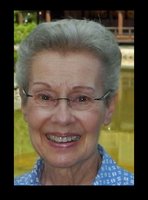 Grace Ruth Burden
It is with great sadness that we announce that Grace R. Burden (nee Boulter) has gone to her eternal peace. While we mourn her loss, we feel a sense of relief that her earthly suffering is over.
Grace was a beautiful, loving, enthusiastic wife, mother and grandmother, who was full of energy and had an incredible sense of humour. She always had a story for everything and loved to explain the "proper" ways of doing things. Her wholehearted involvement in the lives of her family and friends made each person feel special and valued. From her love of tea to her generous hospitality, she had a talent for making the little things of life important.
She will be missed by her husband Karl; her children Mark & wife Margaret, Janice & husband Anthony; her grandchildren Courtenay, Spencer, Chelsea, Lindsay and Brianna; her sister Gail & husband Paul Stevens, sister-in-law Margaret Boulter; and nieces and nephews. Grace was predeceased by her parents Stan & Irma Boulter, and her brother Garth.
Because of Covid-19, the memorial service at Central United Church, Unionville, will be delayed until it is safe for her daughter and family to travel from their home in the United States. In lieu of flowers, donations may be made to Central United Church, 131 Main St., Unionville, ON L3R 2G3 or the Alzheimer Society of Canada.