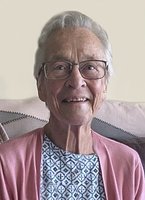 Eva Margaret Diller

Gently, after a long illness and sudden decline, Eva stepped into the presence of her Lord. She will be missed so much, by so many.
Eva was born near Maple, Ontario. Her caring nature was fostered by parents, Isaac and Annie (Reesor) Baker, as she grew up with siblings, Alvin Baker and Mary Drudge, (both predeceased) and Ruth Reesor.
In 1956 Eva married Herb Diller, joining his family of sisters: Dorothy Reesor, Eileen Baker, Norma Smith (predeceased), and Myrna Burkholder.
Over the years they enjoyed raising their daughters on the family farm, in Scarborough. With a change in a career for Herb, they relocated to Dickson Hill, in Markham. In retirement years they moved to a condo at Parkview Village in Stouffville, where Eva volunteered as librarian for many years.
Eva always enjoyed reading and writing. Her love of the printed word led her to complete a writing course in midlife, which prepared her to write and publish her memoirs.
Eva's greatest gifts were helping and hospitality. She held many jobs over the years, most of them as a volunteer, but each one involved serving others. She and Herb set examples for their daughters through participating in an international student program, a program supporting a low-income community in Toronto, and another that involved hosting travellers from across North America. They graciously accommodated guests from these diverse groups, evidenced by several full guest books. Herb and Eva's door was always open to visitors.
With a deep desire to share her faith, Eva spent twenty years with a prison ministry team, corresponding with, and marking Bible studies for hundreds of inmates.

She had a great imagination and used it to create fond memories for her many grandchildren and great-grandchildren. They often FaceTimed with Grandma, who used her iPad to the end, and they will miss those special times together.

Over the past year Eva bore her chronic illness with grace and strength, always working hard toward getting better and stronger, before another setback came. Eva will be remembered with deep love by her five daughters who spent much time with her: Phyllis (Murray) Stewart, Linda (Mark) Raber, Carolyn (Richard) Reesor, Arlene (Dave) Raymer, and Glenna (Ed) Burkholder.


In Lieu of Flowers donations can be made to Voice of the Martyrs Canada, an organization Eva supported for many years.
-
On Saturday January 9, a private burial will be held at 1:00pm.

At 2:00 p.m. the immediate family will gather to remember Eva's life. Click here to view the funeral service.
If you are able, please join us by watching the service "with us" at 2 p.m. It will remain available for those who may wish to watch it later.