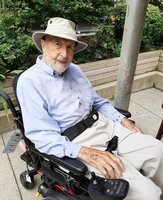 Charles Gower Neville
It is with sadness that we announce the passing of Charles G Neville on 21 December 2020 at the Sunnybrook Veterans Health Centre, Toronto, Ontario . He had reached his goal of 100 and made it to 100.5. Born on the summer solstice 21 June 1920 and passed away on the winter solstice.
Predeceased by his wife Georgina Neville.(nee Miller) Father to son Leslie (Mary) , predeceased daughter Gail (Don). Grandfather to Brad (Laura) ,Daniel (Angela), Ryan, Jordan (Kathy), Dayna (Ray) Great Grandchildren Trent, Hudson, Harper, Owen , Wyatt and Cash. Will also be missed by nieces, nephews, cousins and friends from the USA and abroad.
He came to Canada in 1949 with his wife and daughter and ended up in Toronto. He started his career as a Professional Engineer and became involved in many large Toronto projects ie Toronto subway, TD Center, Ontario Science center to name a few.
He enjoyed a full life living in an old schoolhouse in the Village of Whitevale, Ontario with lots of friends close by. His passion for antique car especially his collection of Wolseley's was known world wide.
He was a WW11 Veteran with the Royal Engineers of England serving in Burma during the war. A long time member of the Imperial Officers Association and the Antique Classic Car Club of Canada
A special thanks to all the staff at the Sunnybrook Veterans Centre for all the great care during his stay.
In 2018 Charles was interviewed at Sunnybrook by students from Crestwood School in Toronto. To see this video go to. https://www.crestwood.on.ca/ohp/neville-charles/
During these times there will be no memorial service.