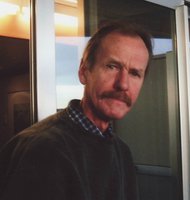 Harry Randolph Jones
It is with great sorrow to announce the passing of Harry (Randy) Jones on December 15, 2020 at the age of 67. Loving and devoted husband of Heather, beloved father of Jason, stepfather of Shane, brother of Darlene and Melody (Tom) and Jimmy and great-uncle of Tyler. Beloved son-in-law of Jim and Lee Donald. Will be remembered by his aunts, uncles, cousins and many friends. Predeceased by his Father, Harry and Mother, Mary and Niece Amanda.
As you all know, Randy had an undeniable and remarkable will to live, no matter the severity of the adversities he encountered throughout life. He faced his challenges with dignity and grace. He was ever the optimist, always looking on the "bright side of life".
In light of the pandemic restrictions, there will be no service at this time and the family will be arranging a memorial service at a later date to be announced. The family invites you to visit the Dixon-Garland Funeral Home website: www.dixongarland.com to post your memories, stories and pictures you shared with Randy. If you wish to be notified regarding the date of the memorial service, please include your e-mail address. In lieu of flowers, donations may be made to the Canadian Cancer Society, the North York General Foundation, or the Sunnybrook Odette Cancer Centre.
THE DASH by Linda Ellis
I read of a man who stood to speak at the funeral of a friend.
He referred to the dates on the tombstone from the beginning…to the end.
He noted that first came the date of birth and spoke of the following date with tears, but he said what mattered most of all was the dash between those years.
For that dash represents all the time they spent alive on earth and now only those who loved them know what that little line is worth.
For it matters not, how much we own, the cars…the house…the cash.
What matters is how we live and love and how we spend our dash.
So think about this long and hard; are there things you'd like to change?
For you never know how much time is left that still can be rearranged.
To be less quick to anger and show appreciation more and love the people in our lives like we've never loved before.
If we treat each other with respect and more often wear a smile…remembering that this special dash might only last a little while.
So when your eulogy is being read, with your life's actions to rehash, would you be proud of the things they say about how you lived your dash?