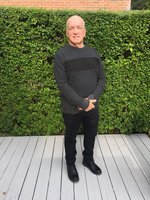 Brian Joseph Barker
Brian Joseph Barker
1959 - 2020
Brian Joseph Barker, the patriarch, life compass, beacon of integrity, voice of reason, and giver of big bear hugs. Brian passed away peacefully at home surrounded by his family on July 21, 2020 at the age of 60. He was a loving husband, devoted father, and grandfather.
Brian was a true gentleman. He was someone you could confide in and was very generous with his advice. He was a source of comfort to many and always knew the right thing to say. Brian was a deep and creative thinker, often with many inventions on his mind.
Predeceased by his parents, Allan and Marjorie Barker. Survived by Michelle, the love of his life and best friend of 35 years. His proudest accomplishment was being father to his four children: Megan (Jeff), Michael, Katelyn (Wyatt), and Brianne. Treasured G.B. (Grandpa Boy) to his beautiful grandson William.
Brian retired from Bell after 38 years of service. He was a well-respected leader, colleague, and friend to many.
In his spare time, you could always find Brian puttering around his backyard. He took pride in keeping his grounds at home immaculate. The joy of landscaping turned into a part-time job working at Angus Glen Golf Club in his retirement.
Brian was a passionate and dedicated hockey player and coach for over 50 years. He loved hockey so much he wore his first pair of skates to bed when he was a little boy.
Affectionately known as "Bakes", Brian had many friendships that spanned his life. He enjoyed their time spent together playing hockey and golf, going to concerts, or catching up over coffee.
Everyone who knew Brian, knew how much Michelle and his children meant to him. He helped to create wonderful lifetime memories that will be cherished by them forever. Brian loved Sunday Funday, splashing everyone with his impressive cannonballs, barbecuing, and playing his favourite music loud enough for the neighbours to hear. Brian's strength, grace, and positive spirit will live on through his family and in those who had the pleasure of knowing him.
Brian and his family would like to express their deepest gratitude to Dr. Trinkaus, the Markham Stouffville Hospital's Oncology Clinic and palliative care team for their ongoing care and support.
A private internment will take place at Christ The King Catholic Cemetery.
Friends and loved ones are encouraged to share their favourite memories of Brian on the Dixon-Garland tribute wall.