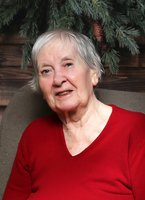 Elfriede Luise Bau
It is with the heaviest of hearts that we announce the passing of Elfriede Luise Bau on Saturday June 27th in her 88th year.
Elfriede will be forever cherished by her daughter, Jennifer, who was her best friend and pride and joy. Elfriede's world was made whole by her three grand-daughters whom she loved fiercely; Pamela, Madison & Sydney. They will always hold her memory close in their hearts. Elfriede was pre-deceased by her loving husband of over 64 years, Rolf Bau, and her kind-hearted son, Horst Bau. It gives us great comfort to know they will now be reunited. Elfriede is also survived by her son and daughter-in-law, James Heffron & Lyn Bau, whom she loved dearly.

Elfriede was such a strong and determined woman with a wonderful sense of humour and a deep compassion for all animals. She loved spending weekends at the family cottage on Doe lake in Sprucedale for 30+ years. Elfriede was very talented in the fine arts and had various hobbies ranging from stained glass window making to porcelain dolls. Although her memory was steadily fading over the past 4 years due to Alzheimers and dementia, Elfriede maintained her happy demeanour and cherished every minute spent with her family. She was one in a million and we were lucky to have had so many years with her.
Due to the covid-19 pandemic, we will be having a private family memorial only and her ashes will be interred beside her husband at a later date. In lieu of flowers, we ask that you donate to the heart and stroke foundation or the Alzheimer's association in Elfriede's memory.
We love you mom - now, forever and always. You will live on in all of our hearts.